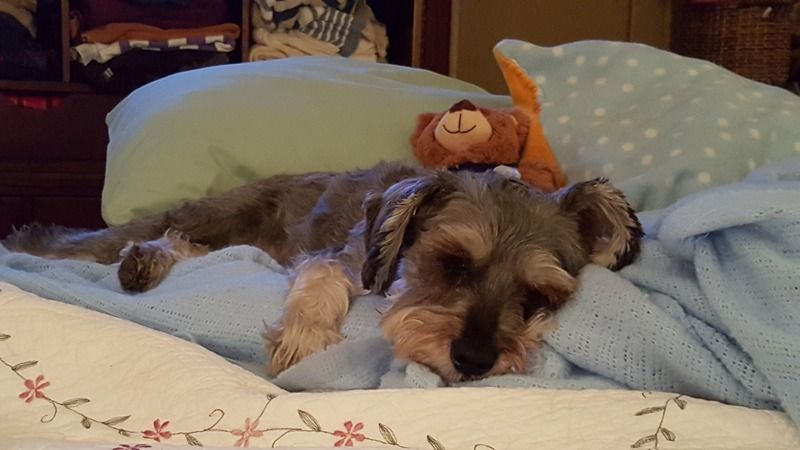 Zeke, my daughter's sweet, but mercurial, miniature schnauzer has been diagnosed with immune-mediated hemolytic anemia. Basically, his body is destroying his red blood cells. He's getting blood tests every few days and his red blood count is slowly dropping. If he doesn't respond to the latest medication soon, he'll need transfusions to keep him alive.
Zeke has been living with us for a couple of years while our daughter attends grad school in New York. I can't believe how attached I've become to him. Our daughter is feeling frantic and helpless, since she's so far away. She's flying home the week of Thanksgiving and our job is to keep him alive at least that long. This is the same daughter that has Dante, who survived lymphoma after a year of chemo and radiation. Dante lives with her ex and is doing great, but is still monitored closely.
Zeke is on a prescription kibble, which he eats with some enthusiasm, and he's getting plenty of fluids, but he's losing weight and is getting weak and lethargic. If you met him for the first time, you'd think he was thin, but otherwise normal, but he doesn't have his usual ball-of-fire energy.
I don't actually have a question, unless anyone has had experience with this. Our local vet is out of options so, if the most recent medication doesn't help, we'll be travelling to a specialist. They've already done multiple x-rays and ultrasounds. It appears he has some pancreatitus, which is common in schnauzers, and that could have triggered the anemia.
He continues to guard the house and his family against invasions by squirrels and mailmen. He is stoic and never complains, even when he's getting poked and probed by the vets.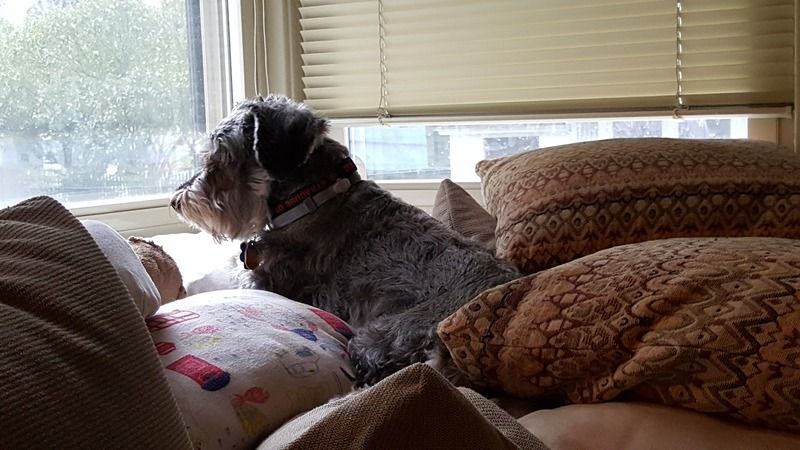 This is Zeke, relaxing in the exam room while waiting for lab results. He could give us all lessons in how to remain calm in the face of adversity.