Sometimes it seem as though there is a split on the forum between those who have been training for some time and who have a great depth of understanding of the learning process, and those just beginning.
Another forum member and I were exchanging stories earlier today, and we though, in an effort to bridge that gap a little bit, that it would be fun for people, no matter if they are novices training for a nice household pet or veterans at the highest level of working/performing to post some of those moments when you just had to take a step back and laugh. No critiquing required unless requested...I imagine in retrospect most of us know what went wrong, lol.
I suppose I'll go first...with a tale of how Kim led a mass breakout in a training club obedience class.
Last spring, before we moved, Kim was in an Novice Obedience class (that is, a class to prepare dogs to earn the obedience trial title of CD and to introduce elements of the CDX).
One day well into the course, the instructor decides to take things up a notch and have us do out of sight stays. Kim and I had never done this outside of our apartment, but Kim is one of those dogs that tends to make her handler look good despite all the silly things a novice handler does, so with all the mass confidence of a group of people who are unknowingly in over our heads, we agree with enthusiasm.
In unison, we place our dogs in a long line and ask them to sit and stay, then file out of the ring, around the corner, and down the hall.
About forty-five seconds into the minute, Kim (unbeknownst to us) suddenly goes from her sit to a dead sprint...and to make matters worse, she's on the far side of the ring and buzzes by all of the other dogs...so THEY break as well. With Kim at the helm, the whole pack does a joy lap around the ring, then rushes the gate guard and breaks out.
We handlers are chatting away without a care in the world when we hear someone scream "INCOMIIIIIIIIING!" Thinking one dog must have broken his/her stay, we start toward the corner...just as twelve dogs, Kim still in the lead, swerve around the corner, running like the wind, and scatter their startled people like leaves in a storm.
Chaos.
Needless to say, when I found out what had *ahem* sparked the whole incident, I apologized profusely, but I couldn't help but laugh at the look on Kim's face...she had clearly been having the time of her life. Looked something like this, in fact, but wilder: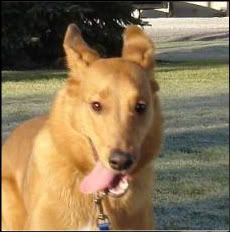 So that's my story