Discussion Starter
·
#1
·
Wow, I didn't realize just how much I hated Fort Drum, NY until I moved here. I LOVE Colorado!
So, the house I picked out on the internet and took sight unseen was a bit different than I imagined, but it's working out great. Other than the actually house needing some minor work, it's a great place!
So, let's recap the trip from NY to Colorado...this should be amusing for you all.
It's April 23rd, and there's a problem clearing military housing...I'm missing some vital paperwork and they are trying to not let me get out of there. Typical Army, one piece of paper and I'm sitting there an additional 4 hours.
But let's go back to the day before, when they picked my stuff up. The movers missed an entire closet, so I had to pack it all in the bed of our truck. This is a Sport Trac, with the short bed, not even a fullsized truck bed, so the crate and everything I left out so the dogs could ride in the bed had to be folded down. So, now I'm stuck in a bad position. Three kids, two dogs, my mother and I...and no room in the truck for the dogs. Three carseats take u the entire back seat of the 4 door truck, and of course someone has to drive and my mom is the passenger...so, what do I do with my dogs? There's no room in the bed whatsoever, it's packed to the point I can't see out the rearview for the entire trip...
So, lucky for me my mom is a great sport and an adventurer...she suggests we lay a blanket on the floorboard of the backseat, and Lacey can ride there. So, there's one dog with a spot, what do we do with Lily?! Again, thanks to Mom for being the support I needed (because frankly by now I'm panicked out) she picked her up and sat the 60 lb dog on her lap and says "I don't know any laws that say we can't ride with her on my lap"...good ole Mom. She rode 2000 miles with my APBT on her lap. Good thing Lacey was a good sport as well, as she rode those 2000 miles laying on the floorboard, at the mercy of 6 little kicking feet.
Our trip took 2 days, I drove from Watertown NY to Indianapolis, IN the first day (arriving at 5 AM) slept until 11 AM and then drove from there to Colby, KS that day and the same morning finished my trip up to Colorado Springs.
We stayed at Motel 6 for 4 days here in Colorado waiting on my house to be finished up..that was cramped too...3 kids, 2 adults, and 2 dogs in a single room for 4 days....oh the horror!
BUT, here we all are, safe and sound, and waiting on my husband to join us in about 2 weeks...it was a wild and crazy trip but a great adventure. Thanks again to my mom for being such a wonderful sport about the dog riding on her lap, I know it couldn't have been all that comfortable!
So, here's a few new pictures at our new house with the huge yard, we're on a 24,000 sq ft lot on a corner of a cul-de-sac so it's nice and the neighbors aren't too close...but the best part? Every neighbor around me has at least 2 dogs, the ones right next door have 2 pitbulls, the ones behind me have 2 GSD's, one has a basset, 2 doxies, and some kind of Husky mix, and I'm not sure what the other neighbor has but they are small.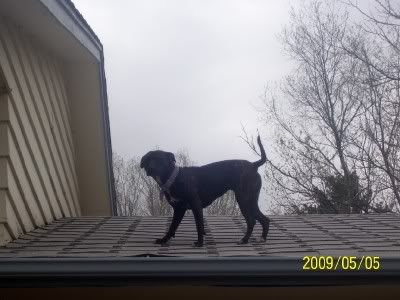 I am "roof-dog" and will meet you when you come up to park!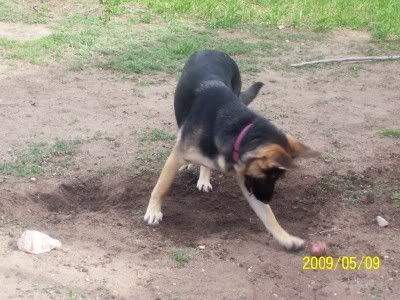 Got ball?
Worn out from fetching!