Discussion Starter
·
#1
·
Even though the first pictures of the pups were met with a cool reception when Skelaki first posted them, I have been dying for them to develop some kind of individuality so that I can try again. They have no real names yet--just Tan Boy, Tan Girl, and Tri Girl--but their litter names might not be long in coming.
The puppies have finally discovered that if they use their legs to push against the "ground" instead of dragging themselves along it that their prodigious bellies will be lifted and they can propel themselves . . . faster? Okay, maybe "more efficiently." Faster will come in time . . .
Prodigious Bellies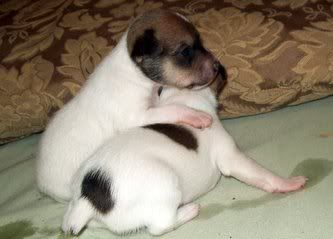 Prodigious . . . Something Else . . .