It is rare that I get to see dogs up close and in person with the urajiro effect.
I've been looking at the colors in Tibetan Spaniels, and have found that most all of them have an effect that is similar. I don't know if it is the same. What I have noticed, looking through pedigrees, is some seem to have lightening from the underside up, and it even goes across the back just behind the shoulders, like a cape.
This doesn't always occur in Tibbies, but most often does if both parents show a strong effect . . . . indicating to me that this trait (possibly urajiro) seems to increase in coverage if it is homozygous.
This rescue girl here is a great example as her coat is vibrant enough to show the cape on her back.
http://seattle.ebayclassifieds.com/dogs-puppies/edmonds/tibetan-spaniel-capri-small-young-female-dog/?ad=15925825
Descriptions and photos of urajiro in its classic breeds don't mention this cape, although I think I can see a hint of it in some photos.
For those of you who know or have dogs that display urajiro, especially in longer coated breeds, do any display the lighter coloring across the back like this?
----------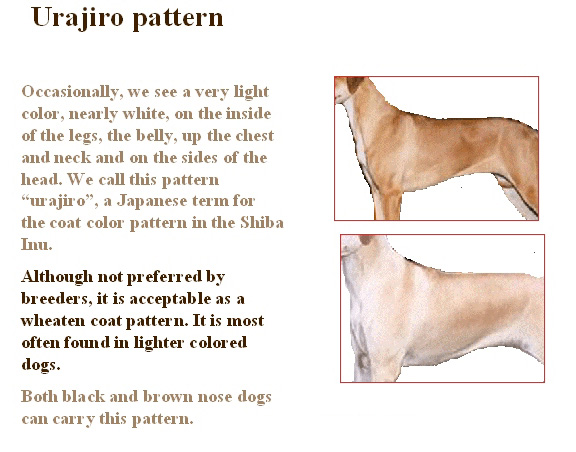 http://kalaharirr.tripod.com/normalcolors.html
SOB