Discussion Starter
·
#1
·
First about his health.
Ty is doing MUCH better today than he was. Wednesday I needed to bring him back to the vet. His blood results showed that he has a huge infection going on. He also wasn't doing to good Wednesday, not eating as usual, his cough got worse, more snot coming from his nose, but still playing and he wasn't dehydrated. He got a shot of vitamins, another antibiotic (novo trimel) to go with the Clavamox, and the Vet took a swab of his nose. Just to make sure it wasn't anything else other than Kennel cough. The Hycodan wasn't working, which was why he got a little worried.
But he's feeling a lot better, getting into everything. Having the Novo Trimel is doing wonders!
We moved him up to my moms room for the next little while. He's better in his crate that way, sleeps better..We will leave him up there for the next few weeks, then move him to the second floor hallway, and then back to the kitchen. See if that will help him with his crate. *knock on wood* He's VERY good about not going to the bathroom in his crate, and only has a few accidents in the house during the day(always pee). He knows his name and comes most of the time when you call him.
He LOVES my niece. She's a year and a half and they play very nice together (always supervised) Theres a pictures of them "sleeping" beside each other in the link.
He met the ferrets Tuesday. Only threw the gate, I'm going to introduce them again threw the gate tomorrow. He really liked them, and they were interested in what kind of ferret THAT was LOL
Well its midnight and I need to go to bed after taking Ty out for his potty break. Just thought I'd update with some pictures and his health.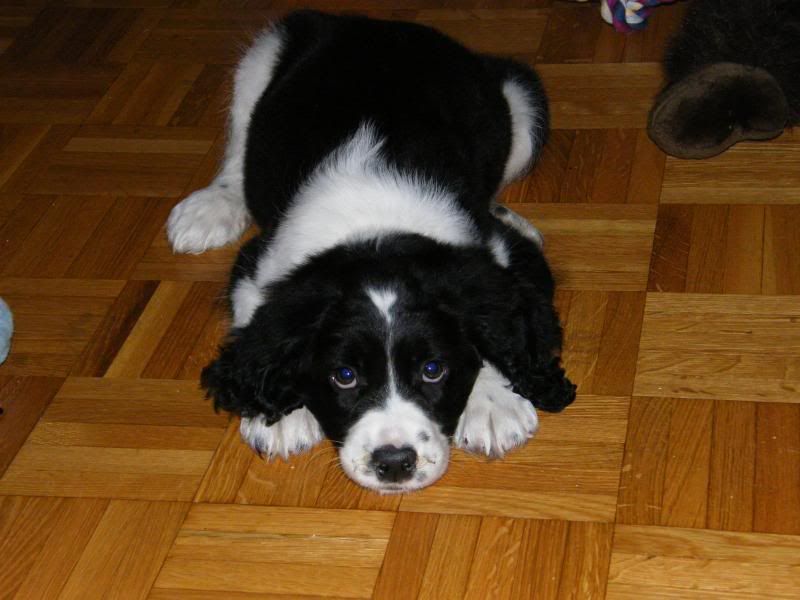 His new harness, look at it glow!
He laid them all out like that, neatly apart, and by size. All on his own!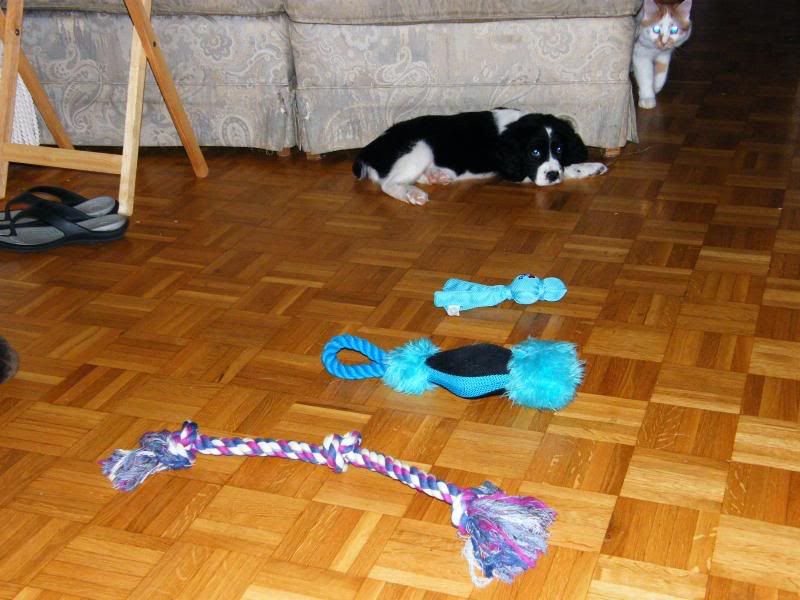 His new dadda! (Before anyone asks, the intro there couldn't be helped, Chase needs to stay for 3 days and theres no way of keeping them apart, he's up to date on all his shots.)
Wish I could post all 28 new pictures, but the only 4 images makes it hard. Heres the link to Photobucket for you too see them all!!
http://smg.photobucket.com/albums/v600/SilverPhoenix69/Ty/
Enjoy!