I've been really busy lately, so haven't been on but...
Ty is doing GREAT. He's growing like a weed, listening pretty good...His puppy classes are teaching him a lot as well LOL. He loves to pose for the camera (as you will see). Everyone that meets him, loves him. He just gives that "look" and they're done for LOL. He's still having accidents in the house, but he's getting there lol
I do have a question. He has NEVER had a accident in his crate (except that first night when he had diarrhea, not his fault), He only has about 2 feet left to "open" up to the full size of the crate. Do you think I could open it up fully for him now?
I did have one guy yell at me for Getting Ty to walk away from his dog because it wasn't my place, and that dogs have to decide to leave each other, and the owners should MAKE them do anything...I just did the "smile and nod" thing and waked away...
I also have someone thinking I'm abusing my dog for getting him to sit after none stop pulling (I've been keeping him in heal, until I let him go...Until he learns it to the T) and got real close to him and went "No Pulling!" in a low voice. It got him listening to me but this lady was giving me dirty looks and smashing things around trying to distract him *sigh*
Anyways, here are some pictures!
This is when he first went into the baby chair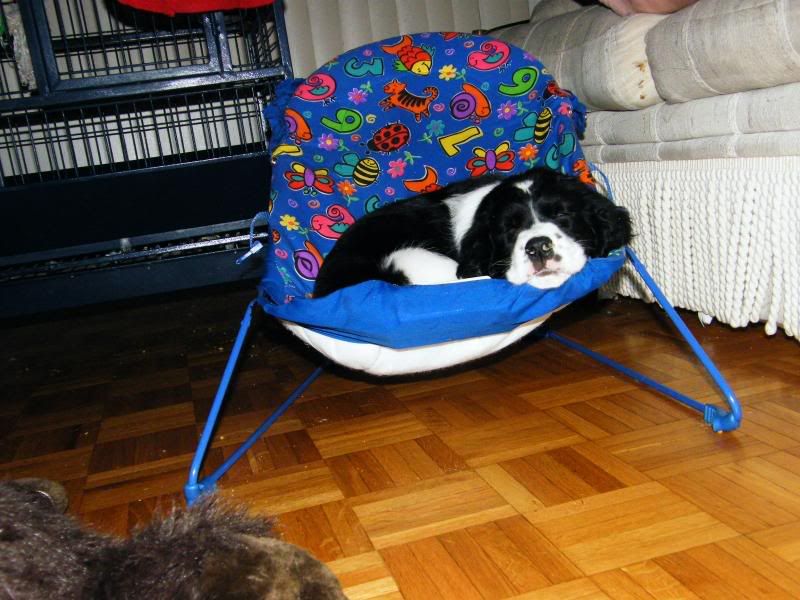 And this was last night! With a wink LOL