Discussion Starter
·
#1
·
I haven't been on any of my forums lately and everything has been super busy.
Some of you might remember the last time I was really posting more often I made a thread that Teddie possibly had salmonella.
http://www.dogforums.com/2-general-dog-forum/47894-teddie-possibly-has-salmonella.html
After spending a weekend in the hospital he came back home and he was doing really well. That was in the middle of March and this past week he started having soft stool again. I didn't think too much of it until about two days ago. Teddie was starting to worry me because he was acting distant, slow and like he didn't feel too good in general.
Well last night I went out and when I got back it was around midnight. My mother watched him while I was gone and within 5 minutes of me being in the door she told me I needed to take him to the vet as soon as they openedin the morning because his stool had blood in it; like last time.
Now the last time he went in I as told it was from changing his food. However this time around NOTHING at all had changed.
So I took Ted and Velma up to bed around 1 in the morning. Since Ted hasn't been able to hold it duning the night I put the baby gate up and kept him in the bathroom. I woke up at about 3:30 to check on him and it looked like some one had been murdered. There was just puddled of blood all over the floor, shower, towel and lets not forget Teddie. He was sitting there with the most pitiful expression on his face as if to say "please mommy; help me" and I couldn't do anything.
Bottom line is I cleaned up blood for 8 hours until my vet opened this morning. After talking to the EVet they said if he's still stable and alert than I could wait till the morning.
7:45 we're on our way to the vet and after a simple blood test come to find out he has HGE (Hemorrhagic Gastroenteritis) which pretty much means he has gastrointestinal ulcers or bleeding ulcers that are rupturing. This is something we're going to have to deal with the rest of his life and keep under control.
Teddie will be in the hospital until at least Monday and we'll see how he is then. Between the medications they will need to give him and the fact it wont kick in for at least 2-3 days; i'd rather him be in the hands of a trusted vet and they can clean up the blood for the next 3 days..
I've been up a wopping 30+ hours now and i'm starting to wear down
However last weekend right before I was getting ready to go out for the night I hear screaming in the backyard. Buster and Duncan are in the middle of a massive fight. My aunt was in the back playing with Buster and a stick, Duncan came over to see what was going on and Buster went after him.
This all resulted in Duncan going to the Emergency vet because of a 1/2" puncture an 1/8" from his eye and multiple punctures around his neck. Buster as ok besides the fact his left ear seems to be paralyzed.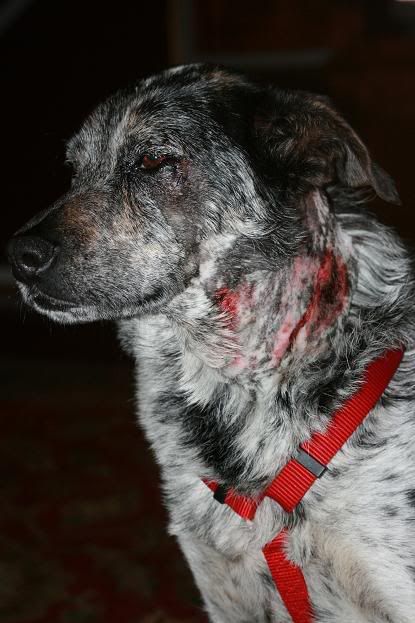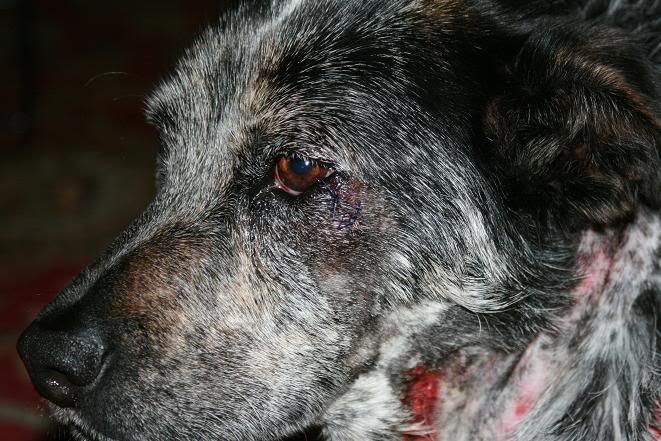 On top of all the "excitement" with Teddie, Duncan decided to pull the stitches out of his face. So another trip to the vet to have his stiches replaced.
Now both Teddie and Duncan are at the vet.
That's my excitement for the last two weeks. I hope everyone is doing well. I hope to be around a little more than I have been; things have just been crazy around here.
Take care everyone.