I was thinking as I read some of the memorials on here how hard it is to lose the dogs we love. In time the sadness is pushed back a little in our hearts and room is made for happy memories. Some of those bring a smile to our hearts and faces. Some bring tears and pain to our damaged hearts but I believe that ALL if them are worthwhile and ALL of them help us to heal.
I thought it would be fun to share some of those stories with other's here on the forum. I will share a few but hope that others will chime in with memories of their own.
First is one that makes me chuckle often. As you all know a large percentage of the population is very much afraid of Rottweiler's. I know that bad things have happened when they are in the wrong homes but since I have had the same breed for over 30 years now and they have ALL been wonderful dogs, it is hard for me to understand completely.
Inga was an exceptionally sweet dog. She got along with all other dogs, birds, rabbits, horses, cats, you name it she loved it. Inga was also a very dependable dog and I was able to trust her off leash, as her recalls were very reliable. When she was with me at a public fishing spot once, we were walking along a trail that went down to the water. I could see men up ahead in the water (in waders) fishing. We walked along down by the water and some of the men turned and talked to me a bit but one man was very busy trying to fix his hook and kept looking at it. I often called Inga "Peaches" or Sweet Peaches" and on that day, I called out to her. She was by this time, right behind the man that was fixing his hook. He turned and saw her there and almost fell over into the water. He said, "THAT is PEACHES? I was expecting a Poodle or something." He was a huge man, probably 6' 5" tall and very broad, so it struck me especially funny.
He laughed along with me when I talked to him about her and he was very happy to meet her once he had better footing. lol
I know that it isn't so funny to read, but I still remember the mans eyes when he said "THAT is PEACHES?" It cracks me up every time.
I have hundreds of memories of that dog because we spent so much time together. She came with me everywhere, even to work. She left a hole in my heart, but I LOVE all the memories I have of her.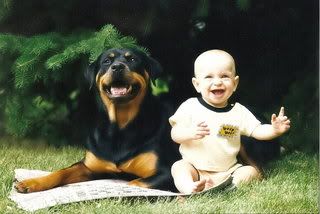 Sorry I thought you all needed a visual of how cute my "Sweet Peaches" was.
What are your happy or funny stories?