Discussion Starter
·
#1
·
I mentioned a few weeks ago that we were moving into half of my parent's two-family house, and we've been in the new place for about two weeks now. Dexter is pretty well adjusted, although he whines a bit when we leave him crated. Luckily my sister or mom often come down and stay with him.
Funny story... during the move, we ended up throwing out his bed. See here:
We were trying to reduce the load we'd have to move, and since it had become rather disgusting (deeply embedded with his winter coat, two holes in it, and a few puke stains... ugh), we decided to toss it. It was free from a friend, so it served its purpose.
I figured he wouldn't need it, since the room he's now sleeping in has an extremely plush carpet. Well I should have known better. The first few nights he slept in his crate because of all our unpacked stuff everywhere, but the first night he was loose, he made sure to let me know how dissatisfied he was. He climbed up onto my bed (as best he could, his back legs were dangling off the side) and put his head down, like he was going to sleep. He knows he's not allowed on beds, but he wouldn't get down. Finally I had to get up and give him an old comforter to sleep on. He's been rolled up comfortably on it every night since...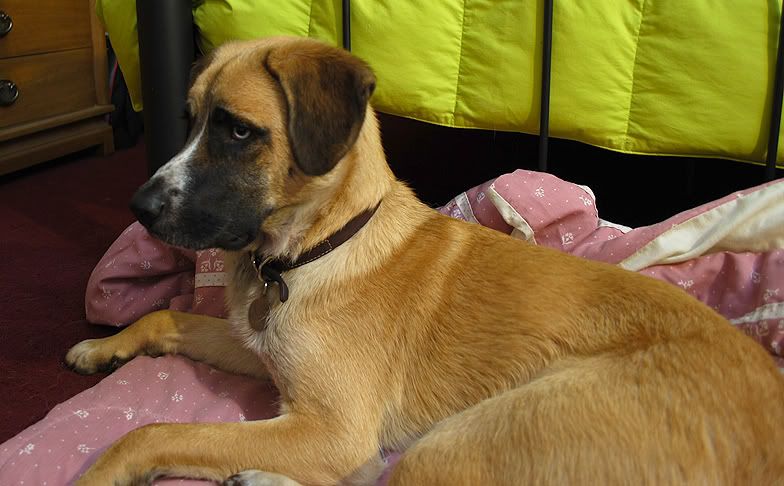 In a few weeks he'll be a year old, I think I'll make him a new, more masculine bed.
Also, just from looking at these pictures, you can really see how much fur he's shed. His chest was so plush and fluffy during the winter.