Discussion Starter
·
#1
·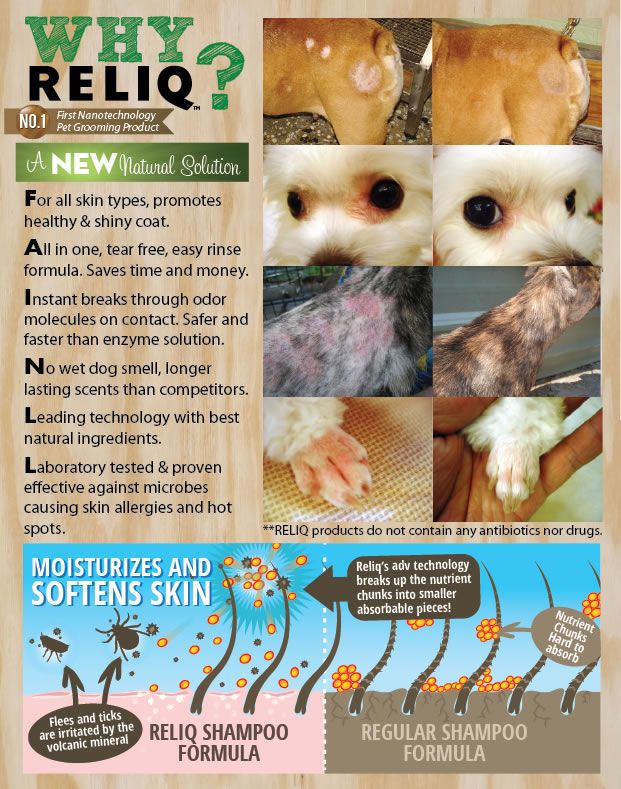 For all skin types, promotes healthy & shiny coat.
Great for use on all skin types. Hydrates skin and coat with no oil residue. pH balanced at the perfect 7.5 for dog's skin.
All in one, tear free, easy rinse formula. Saves time and money.
Simple solution but deliver premium results for your customers while cutting down bath time and conserving water.
Instant break through odor molecules on contact. Safer and faster than enzyme solution.

Instant odor buster, Reliq nano-enhanced minerals breaks through the bonds of odor molecules and dissolves them on contact.
No wet dog smell, longer lasting scents than competitors.

Soothing and relaxing. Reliq shampoo turns bath time into "AHH" time.
Leading technology with best natural ingredients.

First grooming product that integrates with nanotechnology, the science of the 21 century. With this technology, natural cleaning agents and nutrients gets broken down into smaller molecules. As a result, cleaning is more efficient and nutrients are easier to be absorbed by the skin and coat. It leaves your dog looking, feeling, and smelling good.
Laboratory tested & proven effective against microbes causing skin allergies and hot spots.

Naturally relieve itchy skin. Laboratory tested and proven effective against microbes causing skin allergies and hot spots. Better than oatmeal shampoo. Tested by worldwide renowned laboratory to ensure the best quality and effectiveness.
If your dog is current suffering skin issues.
Please share the picturs to us. We love to help.
For more information, please read user testimonies at
www.reliqpet.com
thank you for choosing ReliqPet