Discussion Starter
·
#1
·
Well, Trent turned 9 weeks old on Friday, and I couldn't be a happier person. I am just completely in love with him, and think I have gotten the perfect dog. He is just amazing!!
Already he has a very good "sit" and "down", and beginning to learn "focus". He follows at my heels everywhere I go, and loves attention. When I am napping, he will crawl up and sleep next to me, with his nose inches from mine. He is still a bit nippy, but it is obvious that he is applying less pressure in his bites. When he does something wrong a sharp "No!" will have him down on the floor, head on his paws, and eyes shooting guilt rays into me. He is also completely potty trained, and holding it throughout the night. He also will always finish up his entire bowl of food, and then go to his designated "potty spot" to do his business.
He is definitely showing his puppy energy now, too. He loves to chase a chunk of ice across the kitchen floor, and enjoys running after me around the nearby field. He never seems to get tired, but seems to like being inside rather than outside playing. When I say "Let's go home", he immediately perks up and trots on ahead of me towards our house, tail wagging. When we get to the front door, he always sits down on his own before I open the door for him. His intelligence never fails to impress me.
Though I've done my research and made sure to know what I was getting myself into, I brought him home fully expecting the first few weeks to be demanding, exhausting, and a bit frustrating, although very rewarding. But nope, he is really the most fantastic puppy ever, and I was so surprised with his behavior. Is it really this easy?
Oh, and great news... his ear stood up! The cute ear went straight up on Thursday, and hasn't shown signs of flopping since. We got so excited over that.
I swear, he's too good to be true.
Crazy puppy...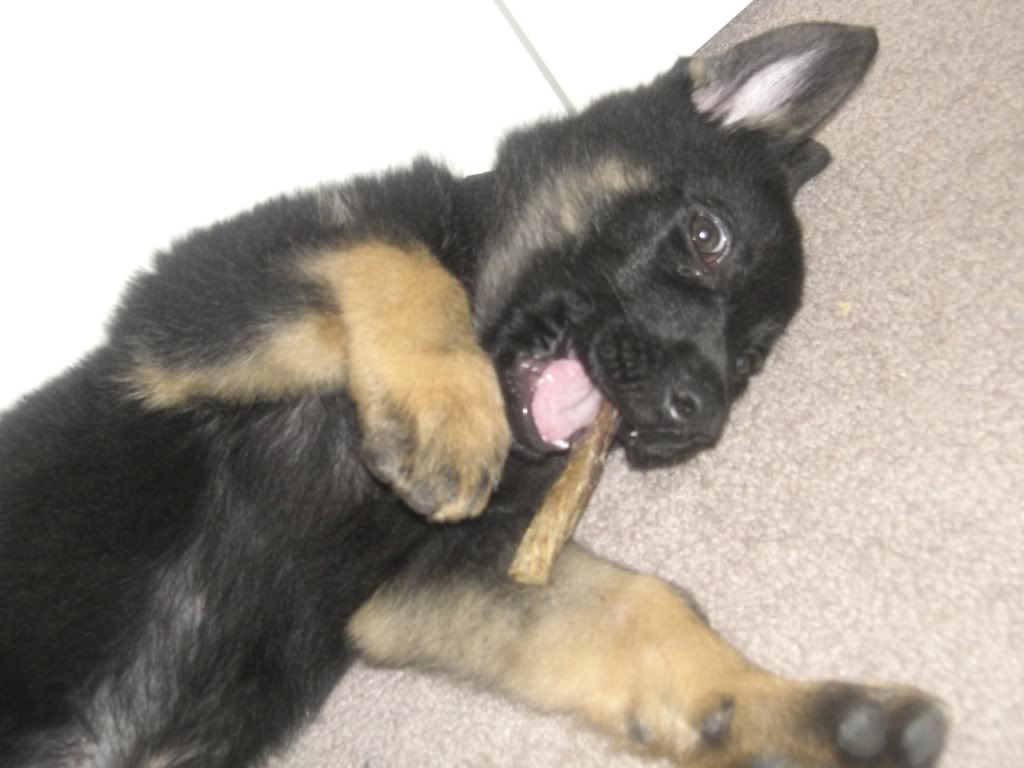 Back when he was but a floppy eared pup, on a rare sunny day