http://www.wwmt.com/articles/attacked-1363805-year-battle.html
9-year-old attacked by pit bull
Comments 8 | Recommend 1
June 19, 2009 - 10:11 PM

BATTLE CREEK, Mich. (NEWSCHANNEL 3) - A nine-year-old girl in Battle Creek is recovering after being attacked by a pit bull.



The girl was attacked while playing near a park, and if it wasn't for one person in the right place at the right time, it could have been much worse. The girl's rescuer was a woman who saw the whole ordeal unfold from her living room window.



The girl was playing in a playground at the Freedom Lane Apartments, just feet away from her front door, when she was attacked by a pit bull.



"I ran and she jumped on me and fell," said Shania Crappoff, who was attacked.



Crappoff walked away from the incident with just a few minor bruises and scrapes, but it could have been a lot worse if it wasn't for a neighbor who heard screams coming through her window.



"A lady came and picked me up and started kicking at the dog to get it away from me," said Crappoff.



Crappoff's rescuer was Laurica Brown.



"I took off running from my house, and pulled her from underneath the pit bull," said Brown.



As a mother of three, Brown says it was her own maternal instinct that was unleashed that day.



"I didn't even think about it, I just took off running to help that little girl," said Brown.



As for Crappoff's mother, she says she's grateful that neighbors were keeping watch, and even more grateful that her daughter's injuries were just a few scrapes and bruises.



"Luckily it wasn't too serious," said Tamika Priestly, Crappoff's mother. "It could have been worse, it scares you because it was your kid."



Newschannel 3 has been told that police have the pit bull in quarantine. That comes as quite a relief to many neighbors who say that they've been afraid to let their kids outside to play.
Guess what? They SHOWED the girl's wounds on the 6'oclock news. They are HORRIBLE. I can't believe it. Beware, Anger will surely follow once you see the wound...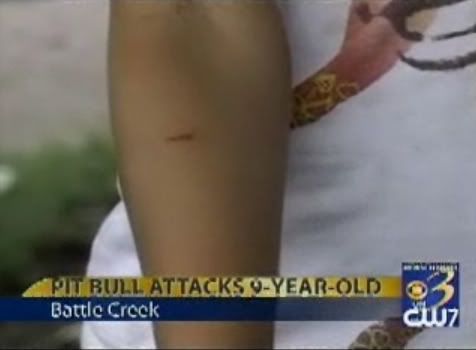 Media is out of control. This wasn't an attack! Come ON! I have a blister on my foot from new shoes that is worse then that! The little girl is LAUGHING over the scratch. Why do Pit Bulls get a bad name? This is why. Yes the owner was irresponsible for allowing their dog to be off leash but COME ON! THIS IS NEWS?!?!?!?!