It's been a while since I drowned the forum in pics, so I'll try to make up for it here, lol.
Birthdays
Kim turned two earlier this month. I tried to tell her this meant she's an adult now, but she just grinned her toothy grin and ran off to trounce Webster. She may be an adult, but I don't expect maturity any time soon, lol. She did get present though...duck for dinner and a tug-a-jug toy, which by day two she could empty in under 2 minutes. She can't unscrew it like the kibble ball though, so that's a plus. Hard to believe she's already two...
Titling
The dogs finally made their trialing debut last month...we're starting with rally to get them used to the ring. They've been to two trials now, and have both went 8/8 on Q's to earn their RL2 title (Rally Level 2) and 2/3 legs of their RL3 as well as Awards of Excellence on all completed levels.
They have more Rally next month, and will make their Obedience ring debuts in May.
Also, Webster finally had a chance to take his CGC and passed, so we're going to start moving toward some therapy dog work for him.
Very proud of all they have accomplished...they are great dogs with whom to work. In case you want a feel for what Rally is about, here's a vid each of one of their Level 3A runs...this was the first time they or I had ever done level 3, and only our second trial ever, so please forgive the sloppiness. Those of you who know what Kim was like as a puppy, and Webster when he came to live with us...well we've come a long way lol.
Grand Adventures
The pooches and I had the chance to go visit family last week, so of course we took it. Four dogs in the house, including my parents' dog and my sister's dog, was a bit crazy, but we made it work...both dogs already knew my sister's Ry, but Mom's Maggy was different story...
Ry, sad because my sister wasn't home (total mama's dog):
Tried to get a pic of the three Littles, but the puppy's stay was um...sketchy. Webster made that face each time she broke position lol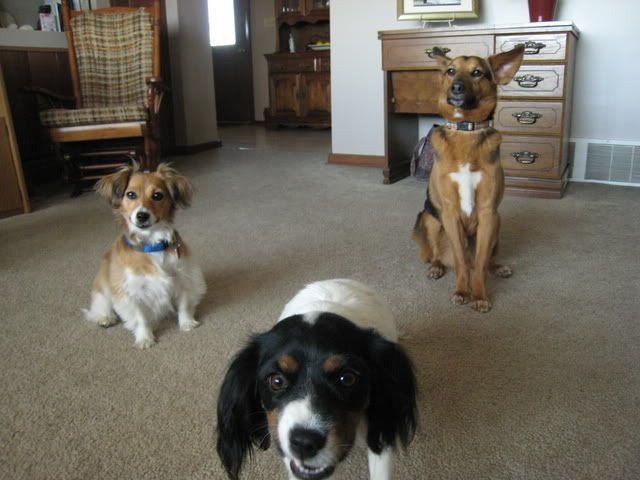 *more*