Discussion Starter
·
#1
·
we are getting a puppy. we are so excited! but i am also nervous. the puppy is going to be 6 weeks old when we get him. long story short, we live in a SMALL town and we are getting the puppy from an even smaller town (pop. maybe 150??) and people are set in their ways about the age that a puppy can leave its mom. i am hoping that iorek will be helpful in teaching the new guy the things he will miss from his mom and siblings. also, a friend of ours here is getting a brother of the new guy too so we will get all 3 of them together for lots of socialization.
some questions that i can think of now are:
will iorek and a sibling be enough for socialization?
vaccines?? this is a big issue with me. i know he will be a little guy, and i don't even know how old they have to be to get their shots, but i also don't really know how i feel about vaccines. iorek had his puppy series and his 3 year rabies, but i don't know if i will do anymore, other than rabies every 3 years (by law). my kitties don't get vaccines and neither do my ferrets. i have conflicting feeling about this. i don't want the new little guy to end up with parvo or something if i don't vaccinate him. the closest vet is 2 1/2 hours away and i really don't want a sick puppy because i didn't vaccinate. i know that this is really controversial but i would like some opinions about what i should do. i don't believe that vaccines should be given every year, or at all sometimes.
i haven't ever had a puppy this young before. we got iorek at 4 1/2 months! i am nervous about him being so young, so any advice would be great!!
here are a few pictures taken with my husband's blackberry (i forgot the camera, i won't forget it next time!) of the puppies. we haven't picked one out yet but hopefully we will be going out there today to do just that! the mommy is a gsd and the dad is a gsd/husky. it was an "oops" litter and they are spaying the mommy as soon as they can. please excuse the size and blurriness of the pictures.
they were 2 days old in these pictures, they will be 2 weeks old tomorrow.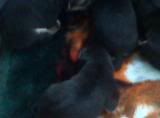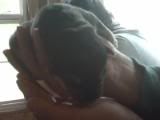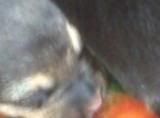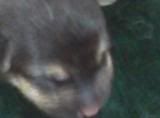 thank you in advance for the advice!