Discussion Starter
•
#1
•
Hi all.
We just got Josie a new little playmate yesterday. He is a 10 month old beagle cattle dog mix. His name is Rory and he is absolutely awesome. So far they love each other. The have been playing for about the last 24 hours straight with breaks for naps and eating. What I wanted to know is how long do you think it will take for the newness to wear off. We've already set up the basic rules. No playing on our bed or the couches. They seem to be inseparable and really won't leave each other alone unless we interfere. We do let then run around the back yard without stopping them and I sometimes keep Rory out alone so he can do his business undisturbed. I'm trying to calm them down right now so I have Josie attached to a leash on my wrist and Rory is laying down on the couch. So in your opinion how is this play situation best handled? I think they could go at it all day if I didn't stop them. I have been using stop as the quiet down word but it only seems to work if I have Josie restrained somehow. Not to say that Rory doesn't go after her but he is so much better trained then she is. I always thought I did well with her but now I can totally see that she is spoiled.
The great news is that they are sharing really well and are both able to eat and get treats side by side without any issues. Here is a picture of the new little guy. I can't believe we were able to find a dog the same age, weight, and height as Josie that loves to play as much as she does.
These are from the 5 min I was able to get them both laying in a bed chewing on a chewy.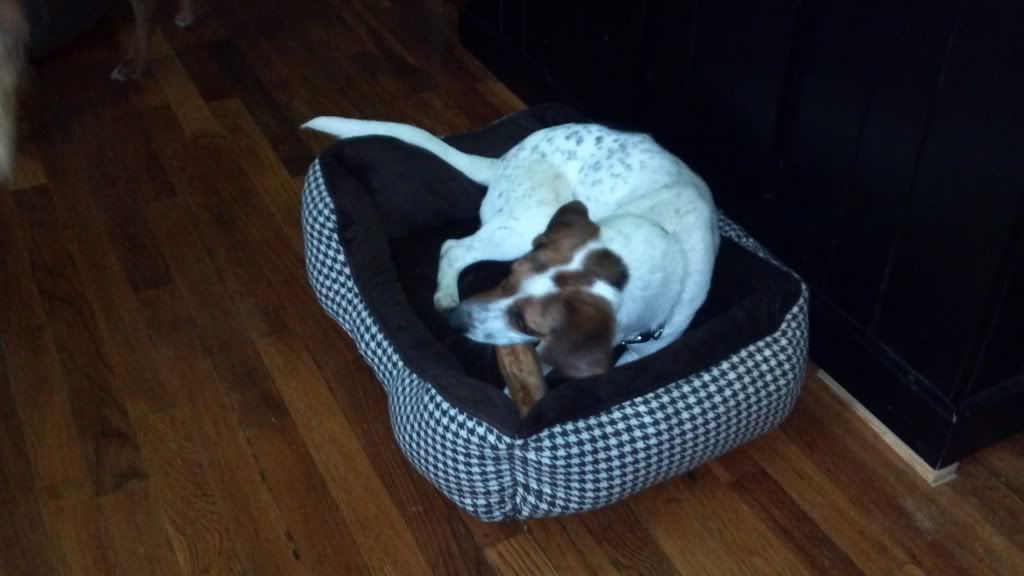 This one is the ride home.