Discussion Starter
•
#1
•
Over the summer I fostered a litter of kittens. Their mother was a barn cat out where I board my horse. The mother was my cat Pandas' sister so she was only about 9 months old when she had them. She was attacked by a dog that lives there as well when the kittens were going on 2 weeks old. She survived a few days after and tried caring for her babies. The owners were feeding momma cat leftover human food and she was in bad shape. After she passed away the kittens got moved back outside (right where the dogs that attacked the mother are fed) with only dry dog food and a bowl of 2% milk given once a day. As soon as I saw them outside starving, I brought them home. It was a rough couple weeks at first. They were very dehydrated when I got them and soo thin. They also had severe diarrhea that we battled off and on for several weeks.
I learned that raising kittens from such a young age is not an easy job! They require so much time and commitment. They have to be fed on time day and night, they can't just skip a meal because you want to go out with your friends or something. They make lots of messes especially when they all have diarrhea. I spent so much time mopping the floor and cleaning up after them. Their milk goes everywhere especially after they learn to drink from a bowl. They have to be cleaned up after eating because drinking from a bowl requires them to lay in said bowl lol. And then finding good homes for a litter of kittens isn't easy either. Even though it wasn't easy, I'm so glad I took them in. It was so rewarding seeing these sick, scared, little kittens turn into happy, friendly, healthy kittens and find homes where they will live indoors, get vet care, and be spayed/neutered so they won't contribute to more kittens having to go through this.
All of the pictures were taken after I'd had them awhile, I think they were like 4 or 5 weeks old in these pictures. It was so difficult to get pictures of them! They are like velcro, as soon as you set them down they are running back to me lol
The female was huge compared to her brothers. She was the healthiest looking kitten from the beginning and such a beautiful girl! She went to a family where she is spoiled rotten by a couple kids! I called her Cali (I know every calico is called Cali, but I'm horrible at names!)
This is her next to the largest of her brothers and she still towered over him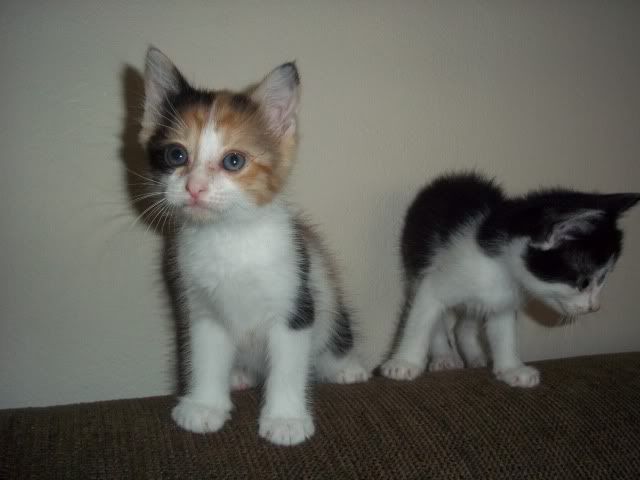 The largest of the males I called Bear because he looks like my cat Panda. He went to a girl who had recently lost her cat and was wanting a pet to bring with her to her apartment in college.
Then there was little Moo. He had what looked like a milk mustache marking so he got the name Moo. He was the runt of the litter and such a sweet little boy! He loved our dog Duke and spent most of his time curled up with him. He now has his own dog to play with and a little girl to keep company. I've also heard he will be getting a new kitten friend here soon.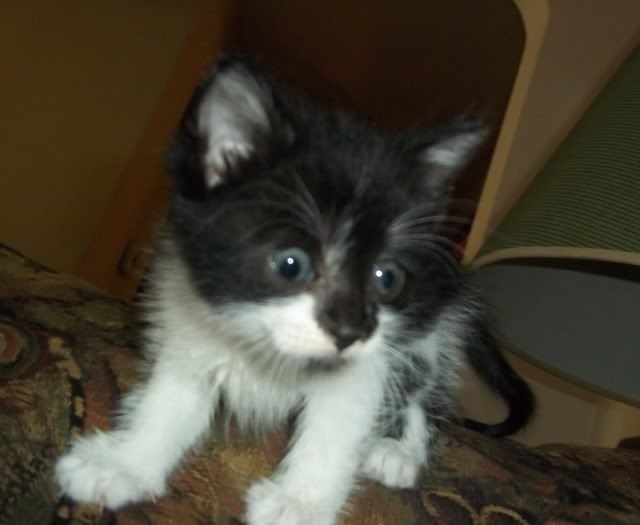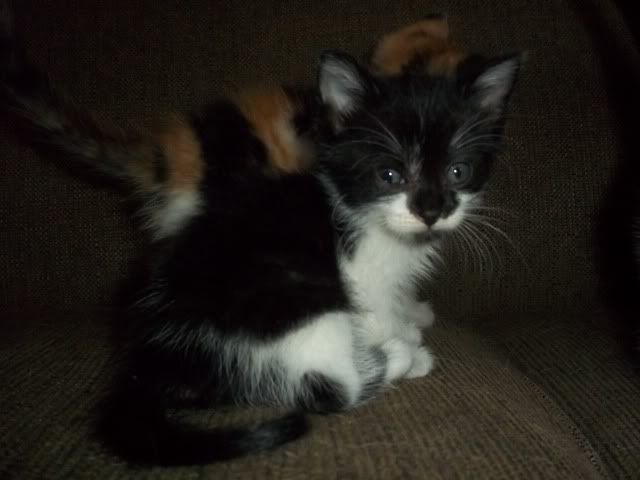 And the last one is Smudge. I shouldn't have favorites but he really was, it was very hard to give him up. He was the friendliest one and preffered sitting in my lap over playing with the others. He also was the one I really didn't think would make it. He was so thin and had the worst of the diarrhea. I think he used up a couple of his nine lives already, poor little guy. He went to a friends mom where he is unbeleivably spoiled and has finally grown!
*more*