Discussion Starter
•
#1
•
We started training class on Thursday, and of course, we already have the "sit, down, up(sit), stand, down" down pat!LOL
Husband took some pictures while we where working today...not the best, but they show how big he is getting!
Oh and he will be 7 months old on the 14th!
A couple nice stands:
Good sit:
Good lay:
Then we are working on roll and crawl(but we didnt get any shots of crawling yet)
And the video of our "puppy aerobics"......PLEASE excuse my appearance!!!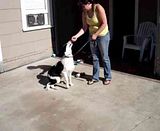 And of course that shot of him in Mommi's arms(I tend to always do this one after a photo session...getting harder by the day though!LOL)