Discussion Starter
·
#1
·
This is Domo a rottweiler X pit bull cross that my husband adopted from the shelter yesterday. We originally met him back in October as a stray brought in injured off the street. He was a very playful four year old with a head like a melon.lol My husband fell for him immediately and had to leave before he "brought him home with us." Fast forward to a week ago when we found out he had been transferred. To us, it sounded like they had moved him to another shelter and not being sure which one it was I proceeded to email every rescue and shelter looking for him. We couldn't stand the thought of such a great dog being put down. I got a flooded inbox telling me that "transferred" was a nice way of saying euthanized.
I also got one from the Intake Supervisor from the shelter explaining that he had been brought back once for not liking cats and had been adopted back out. Which calmed our fears that he had been put down. So, I didn't think much of him until I got one more email again from the Intake Supervisor that said the stars were aligning for us and that he had been returned because the previous adopter's landlord said he looked too much like a pit bull for his liking. We rushed to the shelter the very next day and adopted him on the spot. Domo has been a perfect gentleman in every way and the only regret we have about him is not adopting him sooner!
Anyways, onto a couple of pics Domo!
Here is his picture from when he was on the shelter's website.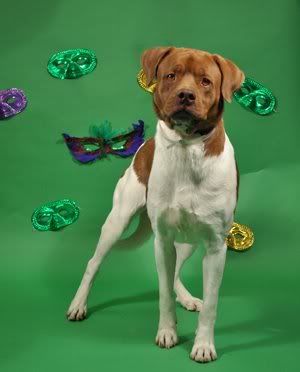 This is Domo begging for some people food, which he did not get!