Discussion Starter
·
#1
·
Before I begin this thread, just let me say that we're NOT going to rehome Marlin as a result of this. We were both taught at an early age that you don't just give up on someone just because they are being difficult for a little while. We both love Marlin very, very much and are more then willing to work with him on this.
Over the past couple of months, Marlin has very slowly been growing more and more possessive/protective of me in regards to my husband. Marlin LOVES my husband, and my husband loves him, so it's not a matter of a human and dog having a negative relationship.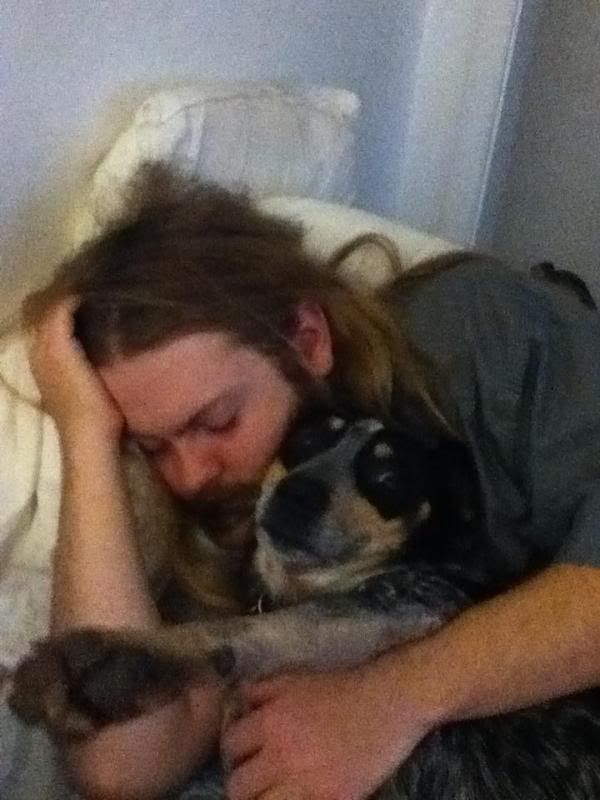 Please don't bash me for this. I'm already aware that this is most likely my own fault for not handling it correctly. Truth is, this is a situation I have never dealt with before, so even though I recognized an issue was starting, I wasn't completely sure on how to handle it. It started a few months back, when we noticed Marlin started growling at my husband whenever he would crawl into bed. I was always laying in the bed when this happened, and we thought he was just one of those dogs that get's grumpy when trying to sleep. We would scold him when this happened and he would stop.
We didn't think to much of this, up until the day came when we noticed he started doing this when I was sitting on the couch with him curled up next to me. If my husband tried to hug me or sit with me or kiss me, Marlin would begin growling. That was when the dots connected and I realized he was growing possessive. When this happened, I'd simply push him off my lap and stand up. This was ONLY happening with my husband. Our other dog could crawl all over me as much as she wanted, and he wouldn't even bat an eye.
A few months ago, we went hiking in the canyons of Sedona. As I was crossing a creek, I slipped and fell in, badly smashing my leg against a rock. I screamed, and Marlin came racing to my side, whimpering loudly and sniffing me over. When my husband got to me, he reached down to help me up and Marlin actually snapped at him... We yelled at him to back off, and he did so.
Fast forward to these past few days. My husband and I both work at the same place, but usually he is called into work earlier then I. I was in bed, still half asleep, when my husband came over to say goodbye. He was leaning over me, getting ready to give me a hug when Marlin stood up and threw himself in between my husband and with a loud snarl, bit him in the face. My husband jumped back, and Marlin layed down over my stomach, fur standing on end and teeth bared, growling at my husband.....
He didn't draw blood, or even leave a mark. Part of me thinks this came out a lot more vicious then he intended it to be. But this is NOT okay! I consider myself EXTREMELY lucky to be married to someone with such understanding and patience, as not many people in this world would be towards something like that.
I can't let this happen again. We are BOTH willing to work with him on this, but we need help on how to handle it. Marlin is ONLY like this with my husband. If other people make sudden moves at me, he'll growl, but has NEVER bitten anyone. Still, I don't need it getting to that point. Any and all advice/help will be considered.