Discussion Starter
·
#1
·
I can't believe it's finally over with...
I know that to many of you, who have been training and competing for years and years, the CGC is no big deal and nothing really to get crazy over. But, being Marge is my first (shy) dog, she is very special to me, and this milestone that we reached tonight really means a ton.
Marge was just outright brave tonight. A dog who used to spook and growl at all new people allowed a total stranger to feel all over her head, neck and back, and even timidly allowed the inspection of her paws (that was definitely our rough spot on the test; I wasn't sure if we were going to make it through the paw exam).
The rest of the exam went off without a hitch. Marge totally outperformed herself. Even if it was just a silly little CGC, she made me so proud, walking on a perfectly loose leash, listening to all my commands and above all,
trusting me.
I heard a couple of the other dogs whining during the supervised separation. Oh no, I thought, it's definitely her. I had realized days before the test that I didn't spend enough time practicing that, and there just wasn't time to make it all up. Yet, it wasn't Marge whining; Marge was in a down-stay next to a person she is only passing acquaintances with, and stayed just like that for the whole three minutes.
My mom had tears in her eyes at the end of the test when the evaluator came up to me and said "Congratulations," and I'm not ashamed to admit that I did, too. I have never felt closer to Marge and I feel like this is just the beginning of a long and loving relationship between the two of us.
Here she is, waiting to eat her reward for a job well done, half a piece of cheeseburger (would've been more, but I don't want to wake up to any surprise poops!)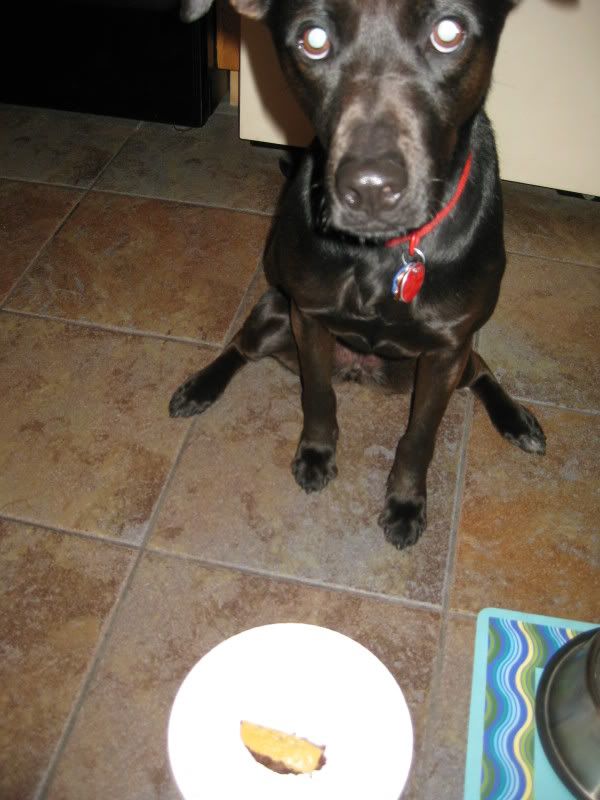 I love my girl. And I think tonight proved that she loves me, too.