I just wanted to share some pictures. (All pics from
Lilongwe Society for the Protection and Care of Animals
facebook page.)
First, I'd never heard of the country either, here is a map to help you
My best friend is a Peace Corps Volunteer there right now. She's acquired her own local dog, named Dora, that she hopes to be able to bring back to the states. Also a male cat, Squiggles. She does what she can on her own time to try to teach the people the proper way to treat animals but it's slow going as the culture is so very different. Here is Dora and Squigs.
People treat animals so differently there. In general, dogs and cats are not pets. Dogs especially are nuisances. There is basically no veterinary care. All dogs are intact, and not vaccinated. They do have very basic veterinary care- one other volunteer took his male dogs to be neutered. It was done without any kind of anesthesia or even numbing the area first. You can imagine how those poor boys screamed. My friend tells me how kids throw rocks at the dogs to keep them away. The people think it's funny and strange for dogs and cats to have names. It's a different culture. The people are also very poor and can barely afford to feed themselves, let alone pets. Even then, the only dog food available is low-quality brands like Pedigree. Inflation has been extremely bad lately, with prices having risen 100-200% in the last year. Generally the people DO NOT purposefully injure dogs or cats, but just as in the United Sates there are some jerks who do it. Most often, the dogs are in bad shape simply because they live a street-dog type life.
I found it interesting how almost all the dogs look alike! Most are brown and have similar features. If not brown, they are brown and black.
The Lilongwe Society for the Protection and Care of Animals is doing all they can to help. Attitudes and practices are slowly changing.
Though it is illegal to sell animals on the roadside, it is gaining in popularity. Often the puppies and kittens are only a week or two old.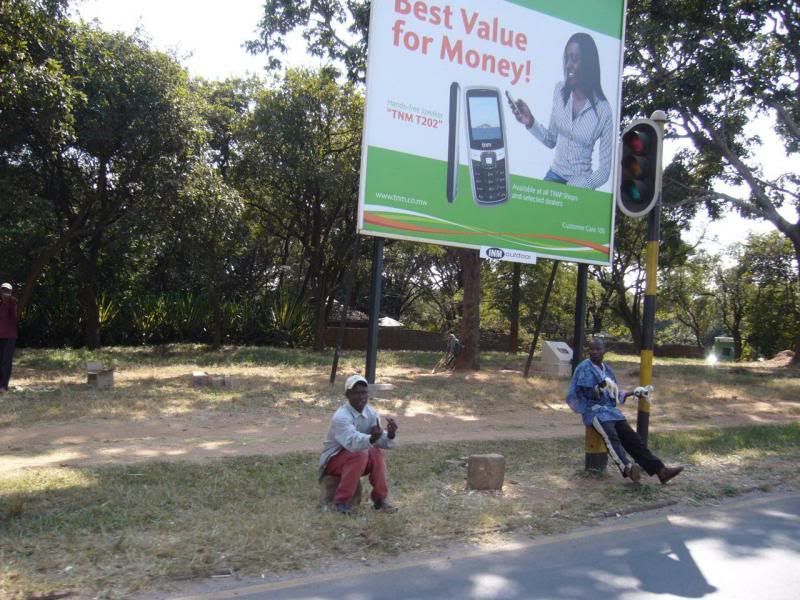 This man was arrested for it, this puppy confiscated. Puppies and kittens may be thrown into bushes on dropped to the ground when a roadside seller sees police coming. One man slipped trying to escape, dropping a puppy and a kitten into traffic. Fortunately the police stopped traffic in time. The man escaped.