Discussion Starter
·
#1
·
I've been a long time lurker on here. I originally found this forum after my previous dog had passed. She was a husky rescue (though I believe she might have been malamute/husky mix as she was larger than any husky I've seen). She died unexpectedly in 2009. I still miss her dearly.
Anyway, after about 18 months of waiting, last spring we felt we were ready for another dog and got a new puppy. We debated on various breeds. I even originally sought out advice here. We considered rescue again, but selfishly and with little kids in the house, I wanted a bit more of a "guarantee" of the breed personality and quality of life/healthiness of the pup. So with much research and many deliberations, we got a Wirehaired Pointing Griffon.
Meet Truffle. Here are a couple pictures from the day she came home at 12 weeks old.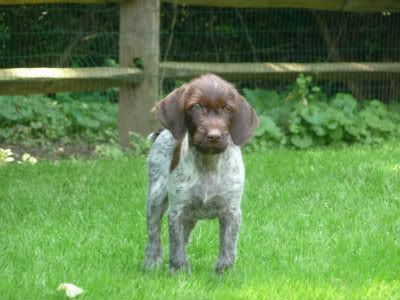 And now here is Truffle at 1 yr. old.
Let me just say, the 1st year has had its ups and downs. I forgot what it was like to have a high energy puppy in the house. Needless to say, I'm not sure I was totally prepared. She is slowly starting to settle down, although still a bit more excitable around the kids than I would prefer.
Not sure how often I'll post (I'll definitely continue to lurk), but I've not seen any WPG pictures on here, so I thought I'd share.