Discussion Starter
·
#1
·
Last weekend we decided to enter Libby in her first field tests. There were two tests on Sunday, and it was a gorgeous day with perfect conditions: warm and sunny, with a bit of breeze. There were probably 20 or so dogs running that day. Libby's first test went well, considering how nervous we were! She handled OK, and had a couple of nice points. She scored an 82%, and we were happy enough!
The second test was a bit more... exciting. When Brad and Libby entered the bird field, the dog that had run right before us escaped from his owner and took off to do some more hunting. He almost immediately bumped a bird, and took off chasing it. Libby saw the bird flush, and the dog run, and immediately took off in pursuit! Then, to make matters worse, a dog from the gallery also escaped and took off to the field as well! It took a while to sort out the mayhem. We were a bit worried about how she would perform in her test, but she did very well. She pointed the last bird, and Brad flushed it, and of course Libby took off after it, as usual. Brad followed her, and she chased the bird down into a boggy area off a creek, which was stagnant and full of reeds. Libby followed the bird across the bog, actually walking on top of the reeds. Brad followed along behind, also atop the reeds, until Libby fell through. She panicked, and Brad panicked, and so he fell through as well, waist deep in the algae and mud. He finally hauled her out and came back across the field, both of them coated in filth! Luckily, Libby scored an 86%, for two legs out of the three required for her FDJ title! (To top it all off, she must have drank some of the bog water as she had some spectacular diarrhea until Wednesday... yay.)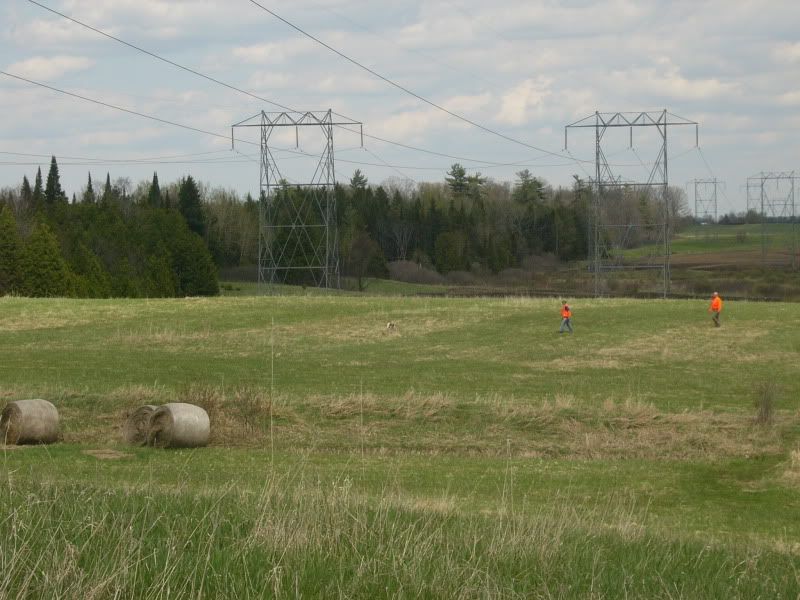 Can you see how wet and muddy they both are?
We took two field tests this weekend, one yesterday, and one today. It was a much smaller test compared to last weekend, with only 7 FDJ's yesterday, and 5 today. The judges were also VERY different: they were actually having us NOT flush the birds for the dogs! Rather, we picked the dog up while still on point, carried them away from the bird, and sent them in another direction. This was WAY better for both training for steadiness, and it also saved a TON of time as we didn't have to chase the dogs all over the field!
Meeting the judges!
MORE...