Discussion Starter
·
#1
·
I taught Kali to turn lights on and off. She adores doing it, and it's hilarious to watch.
She learned it in about two sessions, and at three I have it on almost perfect cue. Here's the vids, sorry for their crap*yness.
This one is in our dining room, I got Kali to stand on that laundry basket because she was too short to reach the switch without scratching the wall. btw watch her mouth, she grabs the little switch with her teeth to flick it.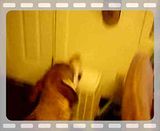 Living room switch, this one is easier to see, cause there's a lamp in the corner, I used our couch as a boost up for this one.