And we had FUN.
We spent about three hours in down town San Antonio, wandering up and down the river-walk and street side. Jetta did very well, not perfect, serious working dog good but pretty damn good for a barely over a year old puppy. Probably an 8 out of 10. And of course I HAD to get pictures!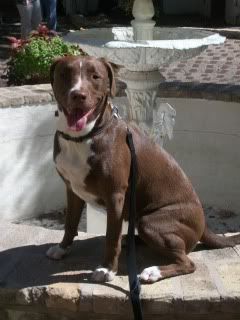 This was our starting point, the 'little village'. It's a very cute little place filled with small local artist shops and a store that sells 'scent chips' and if you've never heard of 'scent chips' they are awesome little ju-ju be looking things that are filled with some of the BEST smells you can imagen. Right there, attached to the store is the factory that makes them, soooo the air was FILLED with gardenia. Turns out Jetta likes a scent so well (I think it was the 'Christmas Cheer') that she decided sniffing wasn't enough and that the chips needed an oral examination as well. Lucky for me she only got a lick in, but if she HAD happened to eat one they're non-toxic anyway...she'd just be crappin out x-mas for a while. Here she is sitting on the side of an empty (empty of water that is) water fountian.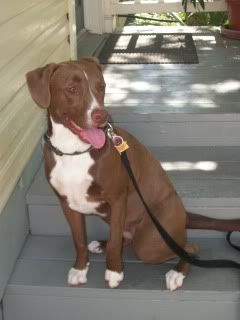 This is us (or rather her) sitting outside the shop she COULD have gone into had the shop keep not had a cat that would have disemboweled her on sight. She didn't seem to up set by it though, just enjoyed sitting outside while our company looked around a bit.
After visiting the shops for awhile we headed down onto the river-walk to meander through the crowds and find somebody to take pitty on a poor lil' therapy dog and giver her some water. Jetta looks so spiffy wearing her Therapy Dog in Training bandana, and it attracted a LOT of attention...half of it unwanted. I think I explained the difference between a 'therapy dog' and a 'service dog' to 10+ people who where only kinda listening as they pet my dog.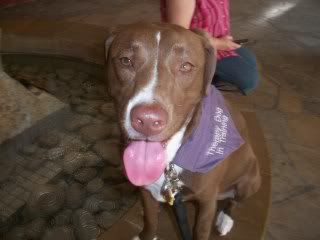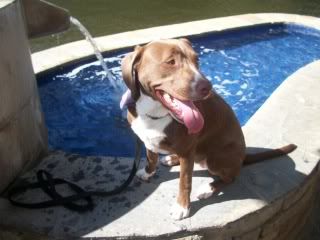 But not to worry people! Jetta did find fountians WITH water in them. (Texas isn't as dry as you might think!) After walking for about an hour and a half we decided to get Jetta used to the river taxis passing by, which didn't take long because she didn't really care about them one way or the other. But while we where down there getting her used to things we decided to walk her around ON said river taxi (a time where being mistaken for a service dog wasn't SUCH a bad thing) before any passengers got on and got her used to the rocking and the rolling which she did a little LESS well at.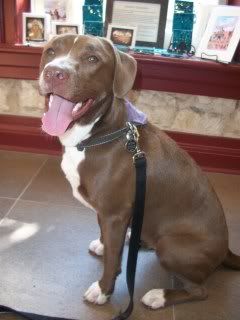 And of course the favorite part of HER day was getting to relax inside the visitor's center while mom and granny stopped to use the bathroom. The people there kinda ignored her as she sat and 'down/stay'ed out of the way by the window while we waited, at least they didn't run around screaming.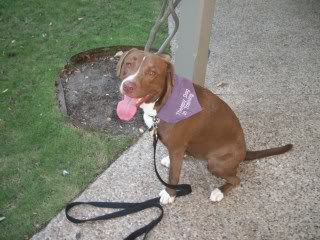 Now this was MY favorite part of the day. I know that pets aren't allowed INSIDE of the Alamo but I had to see, maybe just maybe, if you she was allowed around the grounds. This is how it went:
Me:Exuse me, I was wondering if we could bring her *points to dog* onto the grounds, I know not IN the building but you know....*gestures around*
Ranger:Is she a service dog?
Me:Weeeell....she's a -therapy- dog in training.....*mumbles*
Ranger:Well, that's all I needed to hear! If anyone asks, she's a service dog. *wink* Have a fun time pup.
SERIOUSLY he was sweet AND super cute