Discussion Starter
·
#1
·
we have decided to cut chicken out of iorek's meals for a while to see if that helps with the itchies. he has not had chicken for 4-5 days now, so i would assume we would see a difference by now but we haven't... either way we have to go without chicken for 2 months now since i just ordered food and didn't order any chicken.
i just want to make sure this plan i have is ok for 2 months, if it is balanced enough. i decided to add some ground meals into the rotation because i am starting to worry that i am going to miss out on the balance or something.
this is the plan:
Sunday: beef neck bone (this is supposed to be a fast, a recreational bone to chew but to rest his stomach one day a week. the people who have the raw food company suggested we give this a try)
Monday: alternating ground beef and ground lamb meals - these are balanced 80% meat, 10% organs, 10% bone
Tuesday: meaty lamb rib
Wednesday: alternating ground lamb or beef
Thursday: meaty pork neck
Friday: whole atlantic mackerel
Saturday: alternating ground lamb or beef
on the days that he gets lamb rib and meaty pork neck he gets 1/10 of a pound (how much he eats in a day) of beef organs.
what do you think about this plan? i think that i will keep the ground meals for 3 days a week even when we add chicken back in (if i can add chicken back in) then it will be one day beef, one day chicken, and one day lamb.
also, iorek had lamb for the first time in a while on friday and he was burpy. he had ground lamb yesterday for supper and was burpy again. we ran out of lamb before we ran out of everything else so he went without it for about 2-3 weeks. do you think he is having a reaction to it? like it is not agreeing with him?
thanks for any input you have!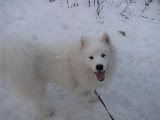 iorek says thank you too!