So, without getting into the how & why, I ended up with a second dog (Rusty) which happens to be my current dogs (Bentley) brother and littermate. They didn't grow up together and this is the first time they have been together since separated from their mother (they are a year old). Things are going well. They get along great with each other and really seem to enjoy each others company.
The issues I'm having are with Rusty. He came to me intact (this will be taken care of in a couple weeks), skittish, VERY submissive and fearful. I'm pretty sure the person I got him from hit and yelled at him. And I know for sure he was pretty much locked in a cage aside from potty breaks for the last year. So I did expect some issues, I'm just not to sure how to deal with them.
Issue 1) Anytime we try to call him to us (in a normal voice), he cowers and wont move from where he is. He does the same thing when we approach him, no matter what the situation is, he cowers and gets as close to the ground as possible, rolls over and submits. But as soon as we pick him up, he is fine and happy and affectionate as if nothing is wrong. Any loud noises, he runs. Anyone yells for any reason (never at him), he cowers or runs and hides.
Is this something we have to work with him on (I've never had a skittish, fearful dog) or should we just ignore it and hope he gets over it?
Issue 2) He is trying to hump Bentley a lot. Mostly when they are playing. However he doesn't seem to do it to other dogs. Just Bentley. The problem is there's only one thing that Bentley doesn't tolerate from other dogs, and that's being humped. He hates it and always has. I know that this is a normal behavior and it will probably stop (or mostly) once I get him neutered, but is there a reason why he only does it to his brother?
Issue 3) He was never really walked on a leash before I got him. So he doesn't like it very much. He will walk with a Flexi as long as I don't lock it at any time. If I lock it, he freaks out and starts thrashing around trying to get away. This makes things difficult for those times when it's necessary to have it locked. When I try to walk him using a normal 5/6ft leash, he refuses to move or just pulls trying to get out of his harness and get away. Not sure how to work on this one. I've tried walking him on his own and with Bentley. Results are the same either way.
Issue 4) I can't seem to get him to slow down when eating. He's just like a vacuum. As soon as the bowl hits the floor, his face is in there and it's all gone within seconds. I have been hand feeding him the last couple days to slow him down, but I don't want to always have to do that. He also doesn't chew his food. He just inhales and swallows it. The vet checked his teeth, and aside from some plaque, they are healthy, so I know it's not the teeth bothering him. With 4 other dogs in the house he came from, I'm sure he had to compete for food (they all ate together) which would explain why he eats so fast. But is there a way to get him to slow down and chew? I do separate him and Bentley when they are eating. So there's no competition for him at all here.
Aside from all that he really is a great dog. He is super affectionate and always wants to be with us (or on us lol). He has taken the big change generally very well. It's just the few issues above that I would like to get under control if possible.
Here's a pic of Rusty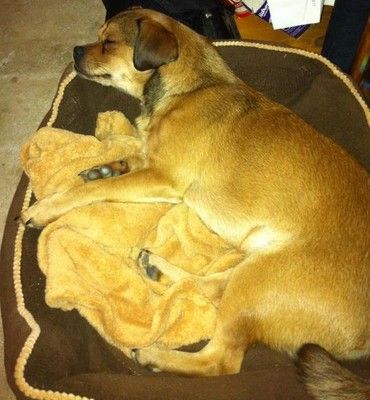 And a pic of Rusty and Bentley sleeping together