Discussion Starter
·
#1
·
There are these group sites on Facebook in my area where people can re-home animals and sell animal related items. I hate them because most people are ignorant about dogs, but I use them to try and get shelter dogs adopted. Anyway, there was a woman who was desperately trying to re-home a "catahoula mix" female because her husband decided he didn't want her anymore and wanted to shoot her. I told her I would foster her so we could get her out of there and we'd find a better home for her. Turns out, this dog is nothing close to being a catahoula mix (I think she is Miniature Pinscher and Chihuahua!)
The whole business was shady and stupid, but I didn't want this little dog to get shot. She's only six months old and already terrified of men. She wets whenever my boyfriend comes near her. She seems like she is warming up to him though.
She's super sweet, smart, and very playful. Anyway, my point is, I am a failure at fostering because I love her and she's staying with me. I was going to ask everyone here if they could give some insight into her breed(s)? I am pretty sure she doesn't have Catahoula. She is about 6 months old and weighs 15 pounds.
Now I have four dogs that range from 15 lbs to 80+ lbs.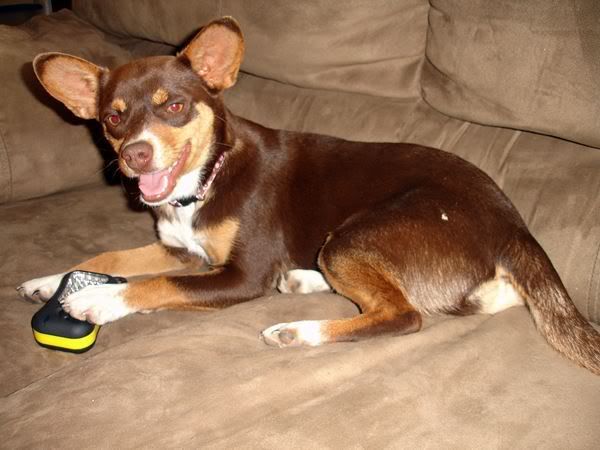 I will try to get pictures of her standing, but she never stops wiggling!