Discussion Starter
·
#1
·
...to go shopping with my parents...anywhere. I brought home a mini horse Saturday when my dad went to pick his up and I talked my stepmom into bringing home this girl today....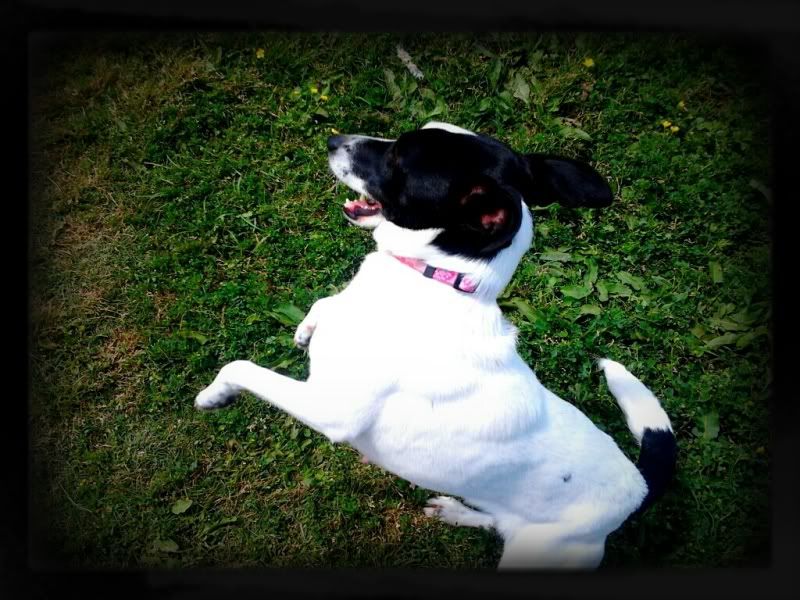 She comes from the same rescue that their lab puppy comes from and has been with them for the longest of any of the dogs they have in foster homes. She had been through 4 different fosters and the lady who runs the rescue could not figure out why! I can't either, she's absolutely the calmest, sweetest, most adorable dog ever! Probably the reason is she doesn't get excited, she's just sweet and was waiting for someone to notice her.
No issues with cats or dogs, loves people and kids, is potty trained and just the sweetest thing ever. She's so polite, she knows sit, come and even responded when I asked her for a down (the foster had never tried it, so they were surprised when I asked her and she did it!)
She fell asleep in my stepmom's arms on the ride home, just a sweet trusting soul. She's been introduced to all of the other dogs and is still a little timid around them but she's quickly figuring it out and played with most of them.
Here she is meeting my terriers...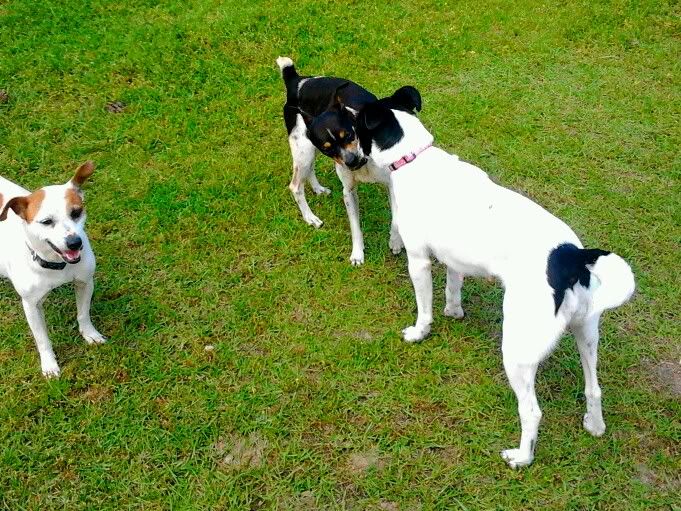 and trying to figure out what Bogie was so interested in (my neighbors stopped by for a quick chat and had their little dog with them, he had to stand on his tippy toes to see it in their truck)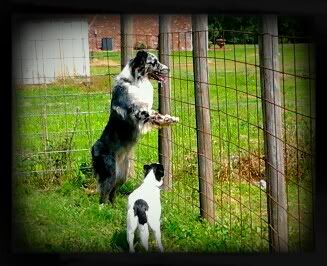 They were calling her a rat terrier mix, and I'm sure that's true but she's alot taller than my ratties and I swear her expressions sometimes look like a whippet. She also moves like a Whippet too and has a deep chest like a whippet but not quite the tuck that they do. All of which you can't see in these pics of course! I dunno, if ya'll can guess her breed from my crappy cell phone pics, but be my guest and give it try! I don't have a decent face shot of her yet but she has rose ears and a slightly flatter stop than any ratties I've ever seen with her nose just slightly shorter than a whippet's. I almost want to call her a smooth fox terrier/whippet cross vs a rattie mix. It doesn't really matter, Gosh is she sweet, whatever she is....
Oh, and her name is Gracie