Discussion Starter
·
#1
·
Two nights ago bubba threw up his dinner right before I went to bed (about 4 hours after eating). I cleaned it up, gave him about two cups of cooked white rice and we went to sleep. No symptoms between then and this morning- I woke up to some little vomit piles on the carpet at 8:30 am. He was acting fine so I went ahead and fed him (2 cups, normal amount) and got ready to take him to class with me. As soon as I parked he started whimpering and promptly threw up twice in the backseat, the food he had just eaten.
I decided not to take the sick dog to class and instead brought him to the house that im petsitting at so I could watch him. by this time an hour had passed since waking up(9:30) and he threw up twice more on their porch, then drank some water and promptly threw that up too. His vet is right down the street and so I raced him in and after vomiting almost everything else up they took him back to do xrays and bloodwork. This was seriously the most acute thing I've ever experienced- literally all happened in just over an hour.
Luckily bloodwork is fine, he's not septic, he's on IV fluids overnight and then they'll either have to open him up (the xray mass looked too big to do an endoscopy so it would be actual surgery) but theyre going to do another xray tomorrow to see if it looks any different.
please no bashing, we've been working on him being alone without the crate and i already feel like the worst dog owner in the the world right now. :doh: labs eat everything, the assistance dog coordinator luckily was very helpful and sympathetic.
Below are bad iphone pics of the xray. Anyone (sassafras!) have any opinions about whether this looks like just air/intestines or if he might be able to pass it (I think it looks pretty bad but wanted opinions... looks like a sock to me :doh: )Its the C shaped thing near the fundus (bottom left) of his stomach.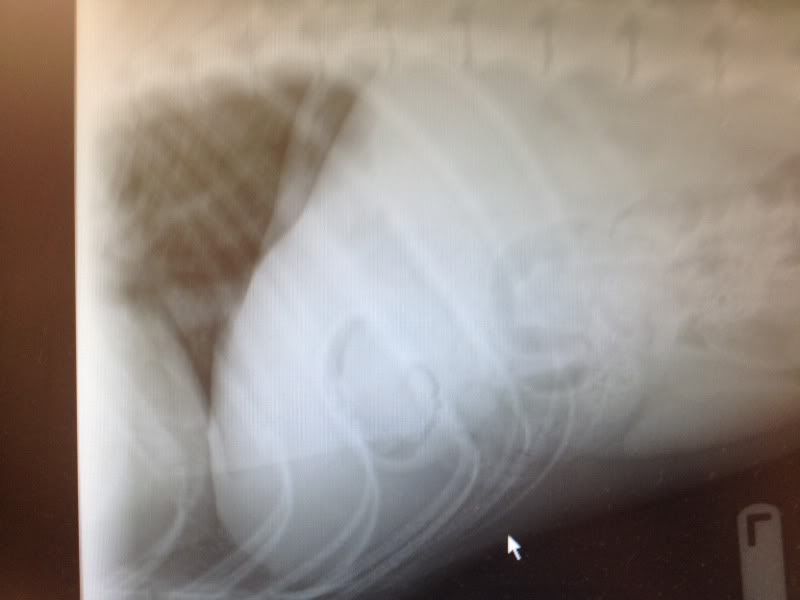 and him on his back