Discussion Starter
·
#1
·
Hello all,
Just joined the forum and wanted to say hello! :wave:
After devastatingly losing our 4 year old GSD very suddenly about 2 months ago, we had an opportunity fall into our lap to adopt a 2 year old GSD/Golden Retriever mix this week. We pick him up Saturday!!
We happened to find out that an old friend of mine's Dad needed to give up his dog due to not having enough time or energy to exercise and train him properly. Having just lost our athletic and active GSD, left with our little mellow lazy mutt, and missing my evening runs/walks/hikes, frisbee sessions, and more intense obedience training sessions, we thought this might be a perfect fit. After a couple of meetings and an introduction to our current dog that all went very well, we've decided to take him. We couldn't be happier!
Our new guy is Walter, a very active and energetic, friendly and playful pup. Walt suffers from jumpy-syndrome, bark-at-the-doorbell-disease, and needs an excited-around-other-dogs-and-people-so-much-that-he-drives-everyone-crazy-ectomy. :lalala:
The great news is, after being told he couldn't walk on a leash because he pulls so bad during our first meeting, I had old (wait, make that young and rowdy) Walt loose leash trained in about a half hour. His owner was amazed how Walt sat calmly to go through doors and gates, and how I walked him around the block with 2 fingers. He responded SO well that I can't wait to try to help him with his few issues when we get him home. A steady diet of exercise, training, and good and consistent leadership from us will be just the ticket for him! :clap2:
Here's our new pal Walter (GSD/Golden Retriever mix):
And this is our current little playful pup Jack (Collie/Terrier mix):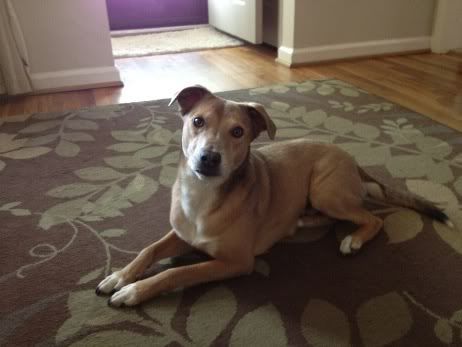 This is kind of crappy quality and littered with our neice's stuffed animals...but I had to show Jack being the most chill dog ever. He will teach Walt how to
really
relax!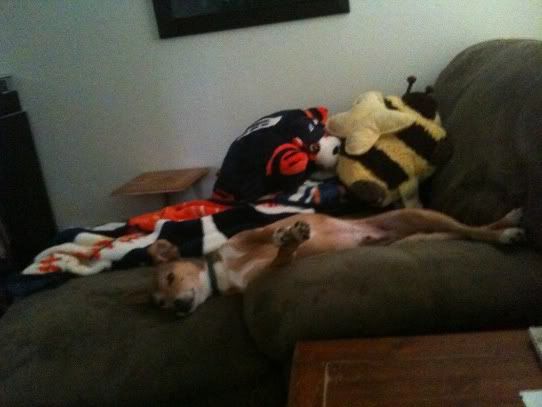 And lastly I'd be remiss not to show you guys Marshall, one of the most obedient, smartest, most talented and trainable dogs I've ever been around. Always remembered boy!
We've never taken in an adult dog before, so I'm looking forward to coming here for any questions we might have as well as hopefully contributing to the forum as well. Thanks!