Discussion Starter
·
#1
·
I have finally come out of lurk mode and officially became a member. I have learned so much from the site!
I have two beautiful shih tzu's named Abby (13 years old) and Gracie (1.5 years old). Abby is just a sweet, loving dog that likes to sleep most of the time and rest her old bones. Gracie is a little spitfire who thinks that she rules the roost.
Here's Gracie:
And here's Abby: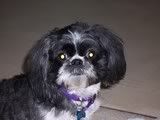 It's nice to finally join y'all.
Kathy AKA gamathteacher