Discussion Starter
·
#1
·
hi, I am new to this site. I am 14(soon to be 15!!) I hope it is okay for me to be on here. I am on other forums so I know how to "fit in". A little about my dogs.
Tank-7 year old black lab. He was an abuse situation and he has some baggage. When i got him he was terrified of everything and I a mean everything. After 5 years of having him he is still afraid of fireworks gun shots ect.. some men, dog aggressive to little dogs and now has health problem. bad hips(vet said most likely from bad breeding). He also has a picky stomach and things but I would not have him any other way.
Bentley- 2 year old yellow lab. He is from the pound. I got him and 6 month old and he was going to be PTS. We just graduated from 4-H dog obedience and start 4-H agility this Tuesday!!! he is an awsome dog all around. No aggression, gets along with my ferret(my newest baby
) and cats and even my bunnies!! He goes everywhere with me. He loves water and fetching. He would do it all day if he could!!!!
Some pictures.
Tank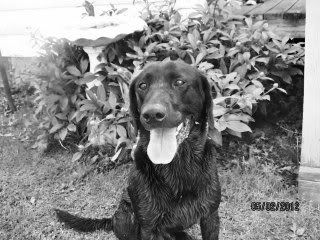 Bentley-This was taken yesterday at a family get-together. The parents just got done play shoes and Bentley took advantage of the cool sand(it was over 90 yesterday)
Just because he is so cute this is my ferret Koda. he is 7 months and growing like a weed!