So, I am new here, obviously =] Looking forward to getting to know everyone and learn lots of new things.
I currently have two dogs. A male pitbull name Killian, and a male "mutt" named Perkins.
This is Killian at 7 weeks, he is now two and a month (roughly)
And a current one from Father's Day while we were outside BBQing: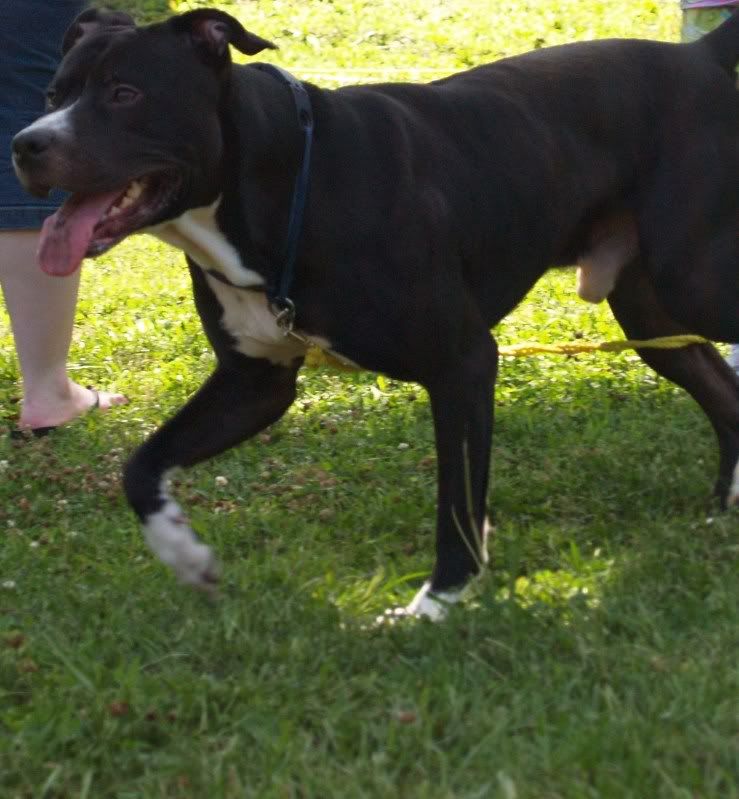 Perkins at 8 weeks. He is now 1 and a couple of months.
And now:
So a bit of background on my dogs. I consider both of them rescues because I know that they most likely would have ended up in a shelter if I didn't get them.
Killian was sold out of a car at 4 weeks of age, in front of a Family Dollar. A college student happened to be picking some items up at the store and seen them. She knew they were being sold way too young and she didn't want them to go to a shelter, so she bought him from the guy.
Well, because she was a college student, living on campus she couldn't keep him. So she posted him on craigslist and that's where I found him. I got him when he was 6 weeks old.
Being separated from his mother and littermates so young definitely had it's toll on him.
Perkins was an accident really. A dog got into someone's yard and impregnated his mother. The family who owned the female wasn't sure of the male dog's breed, and they aren't even sure of the mother's breed. So, the family posted the puppies on craigslist for free and that's how I got him. Hopefully she was spayed after that incident.
Anyway, as I said. I hope to make many new friends and learn lots more.