Discussion Starter
•
#1
•
Hello, hello, hello!
I'm Jess from British Columbia, Canada -- and I'm saying hi on behalf of myself and my two dogs (well, one dog belongs to my roommate/cousin ... but I spend a lot of time with him).
My own guy -- his name is Mambo. Well, officially it's Dr. Mambo, PhD. He's a professor of being a dog! He's a six year old pug/shih-tzu mix. I refuse to call him by his hybrid name of a Pug-tzu. He's my little muttly boy! He's fuzzy and grey and his hair always grows into his eyes! Then we give him a sweep and call him an emo dog! He's so good with our cats (other than with food) and they love him, too. He likes walks but doesn't like going to the dog park much. When he's really happy, he pulls himself across the floor with his back legs splayed and his tail going a mile a minute. We call it his 'happy crawl'
I bought him from a local pet store. But if I had known then what I know now, I would have never purchased through them. C'est la vie ... He's a good little dog, but he has his issues. He's not really super fond of other dogs or people, besides his little circle of trust. He has some food aggression issues with our cats and he took forever to house train. That being said, I love his little ugly face! Oh, and because I love him ... I'm allowed to tweak him about his looks
This is Mambo: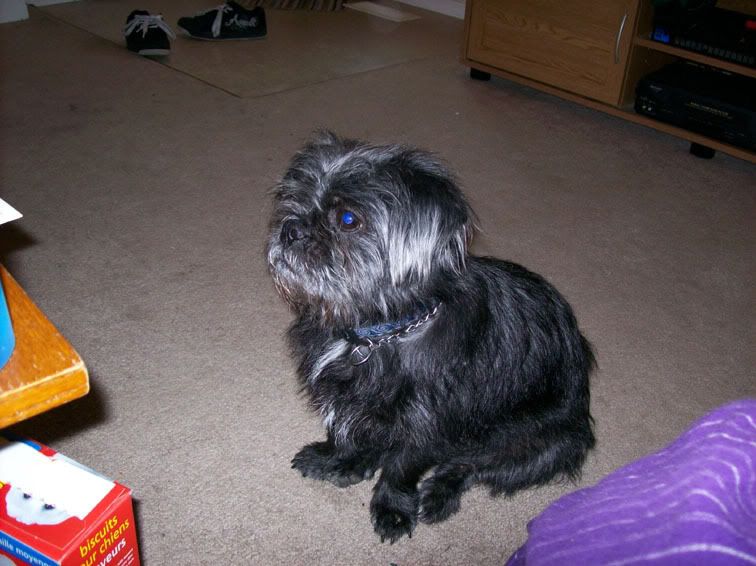 And next is Nilo -- my cousin's dog. He's a five and a half month Black Lab/Border Collie/Rottweiler mix. The consensus is that he looks like a pure lab, though. He's a deep, dark, shiny black with no hint of brown. He has no markings except for a little white upside down heart on his chest.
He's full of puppy mischief and he likes to try and eat our cats (of which we have four) but he's getting better with them. He's goofy and gangly, with long, long legs and he still sometimes trips when he runs.
He's completely housetrained and has been since he was three and a half months (yay!) He can sit, shake a paw, high five, roll over and come back into a sitting position with no verbal cues, only hand signals.
Here's Nilo after a fun visit to the dog park. He was playing in the water dishes. It's not a serious portrait of him, but a silly goofy shot: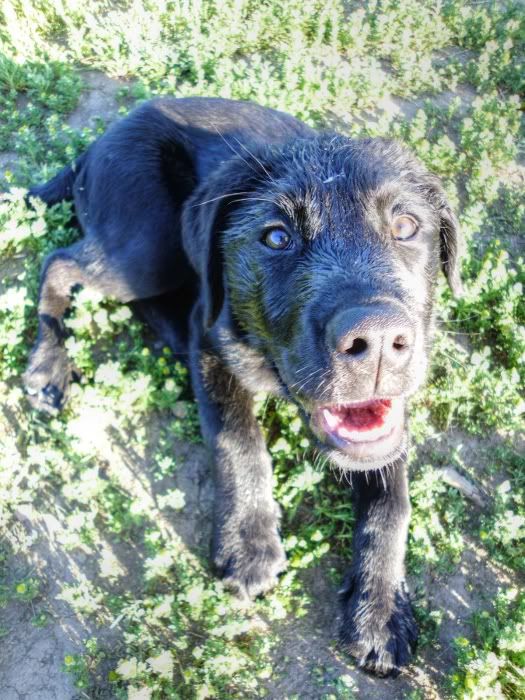 So, yep, that's our canine crew. The puppy and older dog get along great. They have since the beginning. Watching them play chase around the coffee table is always good for a few giggles.