Discussion Starter
·
#1
·
My "old man" is 6 today. where the heck did 6 years go?
M little bratty ball of fluff, is a step away from a senior (isnt it 7 when a dog is considered that lol). What a great 6 years it has been. He is a amazing dog and just a great companion all these years. From camping trips, boat rides and get aways to the cottage he is so well behaved. He is self taught. i swear this dog came to me obidence trained lol. I offcourse worked on him too, but he is just such a good boy. We went on a long 3.5 hour hike today (with his dad and uncle (ok my boyfriend and brother) and had a blast. weather was great, swimming was great and he seen all his buddies. All in all he had a good day. althouh it really isnt any different then any other day lol.
So happy birthday buddy. here is to another 6 (hopefully 10) years!
Love mom.
PS: I'm such a bad mom, and forgot to bring my camera with me. will get some pictures tomorrow. He doesnt like his pictures being taken in doors, he always looks so upset and sad, but outside he is a poser haha. We did get alot of videos of him playing, but alas we can not find the cord for the video camera to plug in to the computer.
Look at what a fluff ball he was lol I dont have many pictures at all of him as a puppy. Didnt have a digital camera(or any camera) back then :sad:
A few most recent pictures.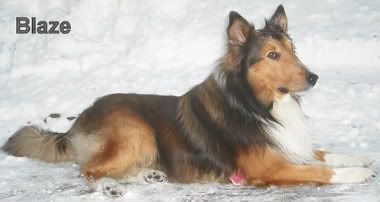 Marley and him saying "let us out!"lol