Discussion Starter
•
#1
•
Nope, this post is not about the Little Shop of Horrors; however, it has everything to do with insatiable appetites!
I'd love to know what any of you who have had very small puppies have fed them Today, the puppies got their first taste EVER of solid food. I boiled up two chicken livers and mashed them with milk to make a paste. As you can see, the pups went nuts for it. They have been showing interest in Holly's food for a few days now, so I figured it was time to give them something--and obviously it was! I'm not sure about how long I should give them this mixture, though--would three days (the length of time it will take me to make it back to the grocery store) be too long? I only gave them the livers because I forgot to get the baby food.
Amy was the first to the plate, but Nibbler was only milliseconds behind her.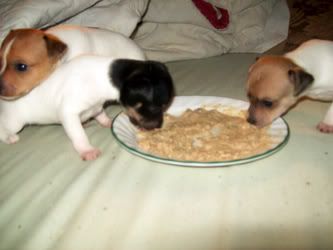 Amy looks good in liver paste.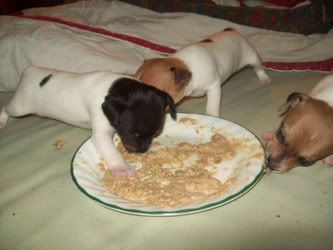 Leela "gets it" now.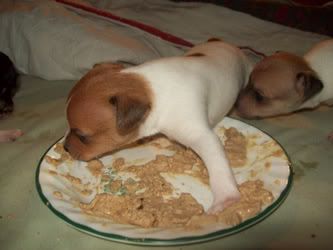 Typical terrier pose--at just four weeks!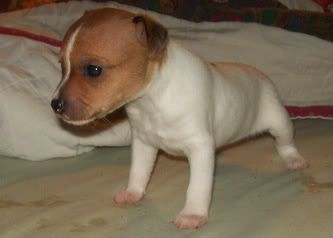 ​
Their tummies did fill up rather quickly and Holly (their dam) got a bit of a treat, but I was impressed with how well they took to real food. If I am right, they will be weaned by the end of next week, even if they occasionally try to assault their mother for food. It's good timing, I think, since she seems ready for her freedom.
Holly also got an amazing treat today in not one, but TWO quail eggs. I tried to get pictures of her eating the eggs, but I don't think that there is a shutter speed in the known universe that is quite that fast. For any of you that are interested, quail eggs are slightly more yolky than chicken eggs and absolutely have a slightly stronger taste when hard boiled. I'm getting about 2 to 3 eggs a day right now--I expect that to double by the end of next week. The dogs should really like that, since the quail eggs were mostly for them. LOL
Oh, and I was thinking of hard boiling and mashing a few quail eggs for one feeding, but would that be the same as feeding liver (as in the cholesterol)?