Discussion Starter
·
#1
·
Long story that I don't want to get too into. Tldr; my mom's old dog (she died a few years ago) is now 'mine'. I picked him up last weekend. He's 7 years old, papillon. He's also obese.
He has been free fed most of his life. He did fine on that until he was neutered and then he ballooned up. He has had no exercise at all since my mom died outside of playing in the house or yard for the most part.
Also, background information: He's had a history of issues with food. He was on Purina and Iams for years until he was about 3 and throughout those years always had trouble. At 3 he went with a handler to show and she fed raw. He looked very good on raw. Since then he's been on a variety of grain free and higher quality grain kibbles- canidae, Innova Evo, California Naturals, and I could go on- many varieties and protein sources. He has almsot constant runs on them all and I still don't know why. The only foods he does okay on are Fromm Duck and Potato, Eagle Pack Holistics Select Duck, and what he is on right now which is TOTW Wetlands. I feed my two dogs raw almost every meal but keep a bag of whatever kibble I find on hand. They both have iron stomachs.
Picture to see what I'm working with. He and Summer are the same age, related, Summer is a little taller fwiw.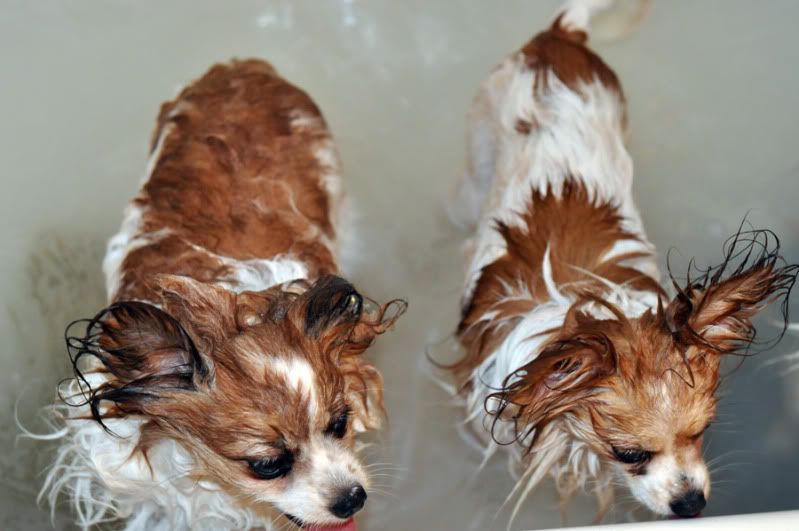 So for now I've started him on 1/4 a cup which is what Summer and mia get if they get kibble. I was wondering about switching him to premade raw that is a duck formula of some sort because it does seem like duck is what he does best on in kibble. But I am sure when his handler had him, he was getting mainly chicken. I know my two dogs tend to keep trimmer easier on raw.
Anyways, since I have no idea how much he ate previously, how low do I start him on food now? I've been trying to incorporate him into our walks but it's been flooding here so that hasn't happened often at all. So far I have not noticed much of a difference with his weight yet.
I'm not sure which section to put this in so I put it here.