Discussion Starter
•
#1
•
I just wanted to introduce myself
I'm Emmie, and I've owned dogs for almost 11 years now (11 this February). I own:
Black toy poodle, Buddy. He's turning 11 next month. He is my heart, I swear. I have never had so much love for anything or anyone. He's my first dog and he's just a sweetheart. He has 100% trust in me- I can flip him any way I want (not in the air, but on his back, etc) and he's just a little ragdoll in my hands because he knows I won't drop him. He always cuddles to me when I'm sick, licks my tears away and let's me use him for a pillow when need to. We've been best friends for 10 years now, and I hope I spend many more with him because I really don't think I could go on without him. That's my baby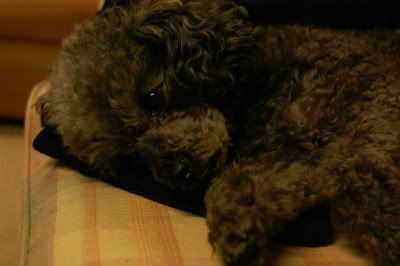 White toy poodle, Chelsea. She's turning 5 this year in September. I don't think I know a dog with a bigger personality. She's just so crazy. Every one who has met her just loves her. However, she gets scared VERY easily because when she was a puppy, my dad (who is a big man), would "play" and stomp his foot by her. We couldn't get him to stop for anything. So now she just gets so scared of everything. She doesn't care for dogparks because unlike Buddy who is everywhere playing with dogs and people, she sits right by me the whole time and watches everything. If she does wonder off and she sees me looking for her, she'll come running back to me -__- She's a great dog, though, and has such a big personality for such a small body.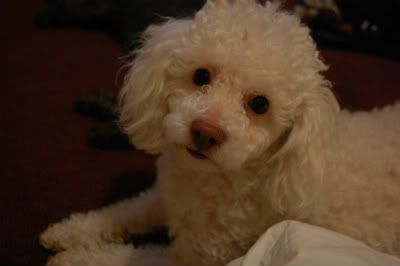 Anni, a terrier mix. She's 5 years old. I adopted her last Sunday. I was looking for a much older dog, but I decided to adopt Anni since she was the oldest they had. They volunteers at the shelter ALL fell in love with her, saying she was such a calm, sweet lapdog. Well, I adopted her and the first few days she was...but yesterday, she came in contact with a kid for the first time while with me and she turned into a wolf. She wouldn't stop snarling and snapping. I was completely shocked. We weren't warned that she didn't like kids. Other than that, she's actually pretty playful although she has arthritis in her back legs. She's VERY clingy to me- if I'm on a bed, she'll whine nonstop to get on with me and when she finally gets the idea she can't, she'll make herself a little bed beside my bed. She just loves to be shown that she's loved.
I also live with a 2-3 year old doberman, Balboa, who is the BIGGEST sweetheart I have ever met.
Oh..ignore the pink leash, haha.