Discussion Starter
·
#1
·
I think Duke must be like a living doggy cat nip lol. Cats are just attracted to him and love him. Every one of our cats and foster cats we've had have just loved that dog. The funny thing is we almost didn't keep Duke when he first showed up at our house years ago because he chased our cats so bad and we were afraid he would hurt them. Then on the day we decided to keep him, he showed up with a little tiny kitten following him around. These two slept together, played together, and ate together. So we ended up keeping both of them after not being able to find their owners. To this day all our cats like to snuggle with him and play with him.
Panda didn't really grow up around Duke, just gets to go visit him on our breaks and every time he is just obsessed with Duke. He gets along great with Boomer, they will play together but they never snuggle like these two do.
Panda irritates Duke a bit though. When he is really happy he will chew on you and he does this to Dukes ears
First time he met Duke as a kitten
Maybe its his tail that causes cats to love him so much.. its like he has a built in cat toy
I rescued a litter of orphaned kittens over the summer and Duke took great care of them. He would take each one and lick them to bathe them every day. One kitten in particular would follow Duke everywhere.
And then there is Angel who lives with Duke. She is one of the cats we were afraid Duke would kill when we were debating keeping him. Obviously that's not an issue unless he were to squish her on accident lol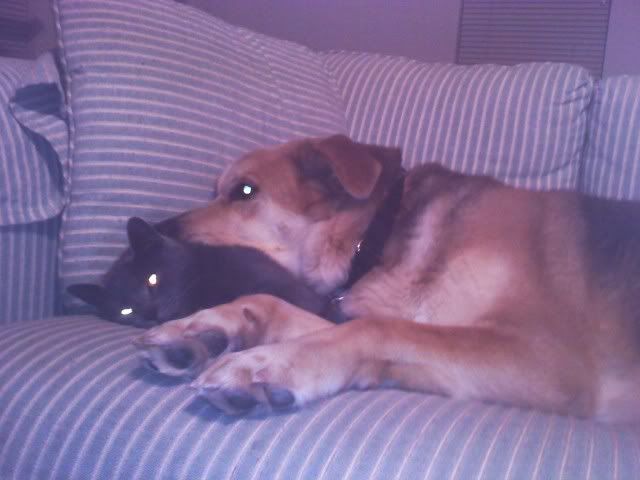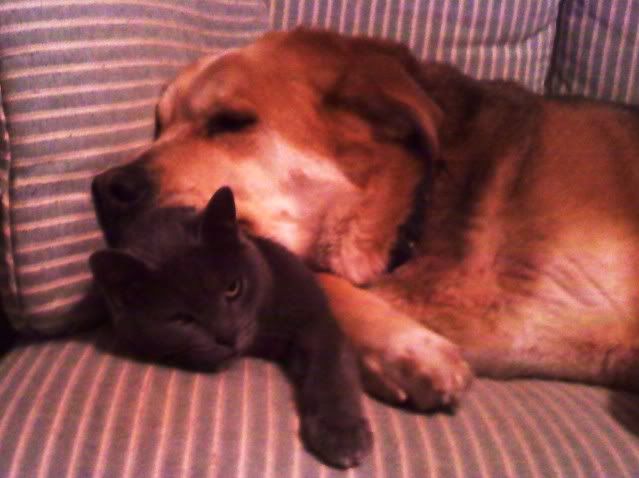 This is the kitten that he brought home with him. I wish we had gotten pictures of them when Jag was a little tiny kitten. He was around 5 or 6 weeks old when they arrived and I think this was taken when Jag was around 6 months old and both of them were healthy and fattened up finally. They were a mess when we took them in.