Discussion Starter
·
#1
·
Hello, I have a 12 year old tibetan terrier that has recently developed major skin problems. Every now and then she would get minor skin allergic reactions to different foods that I would feed her, but she would get used to the food and her allergies would go away after a little while.
But I recently started giving her this one brand of food where she got the usual allergic reaction, but it has progressively gotten worse over the span of a week. A week ago I noticed that she had some scabbing on her lower back area, but I didn't think much of it and stupidly, I thought it would just go away after a little while. She seemed to be more and more itchy so I decided to give her a wash and I cut her hair super short just yesterday. Then I noticed her entire back was covered with scabs/rashes. I am assuming that she got a allergic skin reaction from the food, and scratched herself so much that the bacteria from her nails gave her a skin infection which has spread like crazy.
Here's a picture of her current skin condition: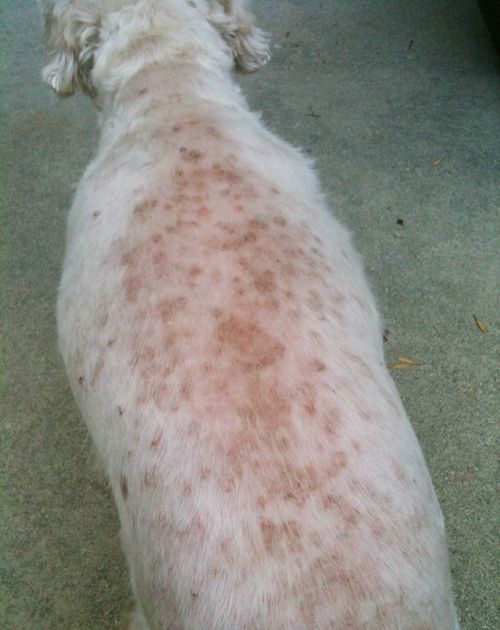 Now my question is, what can I do to help my dog in this situation? Because of financial difficulties, I am unable to take her to see a vet until next week, and I feel as if this issue is pretty serious so I need do something right now. I heard that benadryl could help, but I am unsure about the mg and dosage (my dog is about 20 lb), or if it would even help at all. Are there any home remedies I could use to help sooth my dogs skin to make her less itchy or to even disinfect her wounds? And I am assuming I should stop feeding her her current food immediately, but what should I feed her in the meantime?