Discussion Starter
·
#1
·
So lately I've been trying to teach Rocky to grab his box and throw it. He's gotten it pretty good where he's starting to offer the behaviour. I don't have it on a cue yet, but it's coming along well.
I wanted to get a video of him throwing it for you all, but today he went absolutely bonkers for the box and would barely offer me the throw behaviour. Frustrating, but the video result was pretty funny nonetheless!
Does your dog get this excited over the box?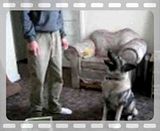 P.S. excuse the laughing in the background that is the (just recently made) fiancee filming.