Discussion Starter
•
#1
•
Hello everyone!
I have been trying to figure out this breed. She is a mixed breed and when I got her, he told me that she is a hound/Shepherd mix. I am not 100 percent sure, and I know it is really hard to tell. I am thinking that she is coonhound, but I guess im not sure on the shepherd. Maybe black lab mix instead? She kinda has a shy personality, which isnt normal for german shepherds. I also think the color is not exactly german shephers ish. I was also thinking maybe husky mix instead of shepherd Her tail was clipped off so I dont think she was born that way. I just really would like to know!
So i was thinking she could be
german shepherd/black lab/coonhound
german shepherd/husky/coonhound/lab
lab/coonhound
i could go on and on...lol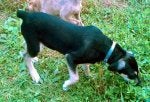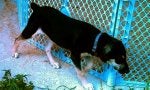 Can anyone help?