I usually go on a handful of camping trips with some combination of my dogs over the summer. I think there are a couple of other threads about this if you search, but here are some of my basics...
1. Bring a kennel. I like the collapsable canvas travel kennels (Canine Camper is one brand, there are others). They are very handy to have around the campsite in my experience. I am usually camping by myself with the dog(s), so if I have to scurry off to take a quick shower or something else where I'm going to be gone longer than I want them on the tie out unattended, it's nice to be able to pop them in there. Some dogs don't really "get" sleeping in the tent at first, too, so it's nice to have it available for overnights if they are pacing or pawing at the tent. Also, because we are doing a lot of hiking and such, it's also nice to have a little "den" for them to retreat and snooze in. Pip especially likes to do this, I just leave the door open and he goes in himself (btw dogs are allowed off leash at this campground as long as they aren't bugging anyone):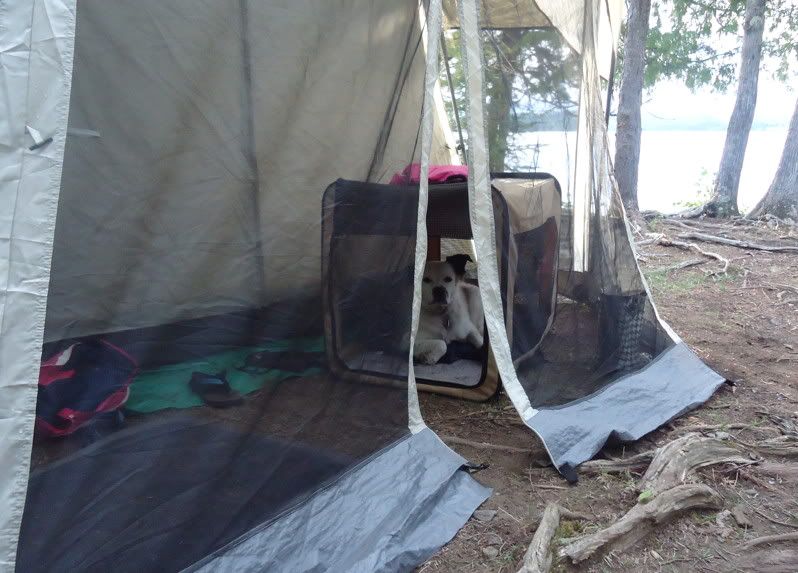 2. First aid kid. Basic wound care/bandaging materials you can get at any drug store or through your vet. I also keep stuff like an antihistamine, Dramamine, a small supply of a pain reliever (ask your vet, DO NOT use human over the counter meds), eye wash, tweezers, a muzzle... I just try to brainstorm any scenario I can think of and add what I would need to deal with it into the kit. Obviously if your pet is on any long term medication, be sure you bring it.
3. Bring a pad or bed that can be outdoors. For dogs who don't like to sleep in the travel kennel, they still appreciate a "place" that is theirs.
4. Acclimate your dog to a tie-out before you actually go. Some campgrounds allow well-mannered dogs to be off leash, but most require them to be leashed around your campsite. Don't wait until you are there to pull it out for the first time. Make sure they can't get to your fire pit, it seems like they would know better, but...
5. Bring food from home. LOTS of bowls, including collapsable bowls for hiking and such. I always need to seem to need a bowl... for outside, water in the tent, water on hikes. Always have plenty of fresh water available. Bring something for them to do while you have down time around the campsite, although mine usually seem to just sleep... bully sticks or such, for example, but only if they are used to getting them. You don't want to introduce a brand new kind of chewie while you're camping and have to deal with vomiting or diarrhea.
6. You can never have enough towels.
That's all I can think of for now.