IN the for sale section. This is the first ad. I am so disgusted:
http://phoenix.craigslist.org/evl/zip/1217273764.html
225 pound Male Great Dane, Opie, very loving and protective. He's 5 years old and not very active. House trained and generally well behaved. Neutered and has been microchipped. Buyer to haul away, would need large SUV or pick up truck. Call Scott Bauer @ 480-380-****.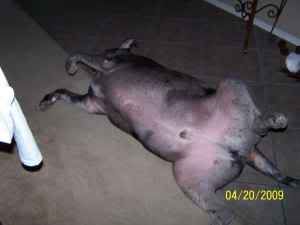 I just.. I have no words. Danes lifespans are short enough as it is. That dog is like TWICE as big as it should be. I want to cry. I wish I had room in my home for that dog and a STRICT diet.. Or vet check. I wish I could help!