Discussion Starter
•
#1
•
A few months ago, my mixed breed dog, Vilya, developed a small lesion on the top of her nose. Basically it was a a pink spot that would first look as if she had scraped her nose (there would be redness of blood but no actual bleeding), then it would scab over and heal, only to start the cycle again. At first, I thought she really had scraped her nose while playing in the yard or during our walks (she likes to stick her nose everywhere). When I noticed the scrape would keep coming back, and that there was a sort of pattern to it, I took her to the vet, who scheduled her to get a biopsy of the lesion.
We just came back from the procedure. The vet believes it's either pemphigus, photodermatitis, or discoid lupus. We have to wait for the results to find out which is it.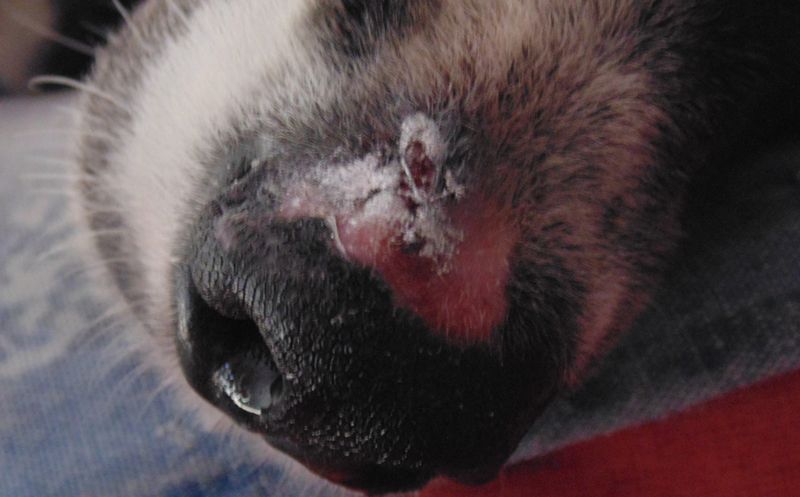 Sorry if the photo is too big, dunno how to make thumbnails. Also, the wound is from where the biopsy was taken, usually the lesion is only the pink spot, except when it scabs.
Naturally, I came straight to the internet to find out more about the three. And something that I read gave me pause. In the case of lupus and pemphigo, an article mentioned that sometimes certain vaccines could exacerbate the problem. And that got me thinking. Once a year, we board Vilya while we leave for our annual family trip. The kennel requires all dogs to get the bordetella vaccine, which they can apply. She gets the intra nasal vaccine. So, my question is: in your experience, could it be even remotely possible that applying this vaccine intra-nasally could have triggered and/or worsened the problem? I would hate to learn that I inadvertently triggered the disease, but I need to know in order to discuss the possibility of either stopping vaccinations or changing to intra-muscular (which would frankly suck, but better than aggravating the problem).
My second question would be about treatment. I'm pretty sure that, whatever she ends up having, it is a mild version, as the lesion has no blisters or ulcers and is not painful to her; mostly it's just the bright, pink spot. I'm hopeful that it will be manageable with creams and vitamins. I really did not like the possible side effects of oral steroid treatments and I would rather avoid them. But if worse comes to worst, what is the best way to manage such a treatment? And more importantly, do you know of any alternate treatments that could help?
Some extra stuff that might help:
-When she was a pup, she had a butterfly nose (patches of bright pink on black). As she grew, the nose gradually turned completely black, but that particular spot where the lesion eventually developed stayed pinkish.
-At the same time the nose lesion appeared, I noticed a brownish spot in the whites of both eyes. I took her with an eye specialist, who said the spots were nothing to worry about, but she noticed small bumps on the inside of the eye, our first indication of a probable autoimmune disease. Eye drop treatment reduced the problem, but it hasn't completely gone away.