Great Danes - oh definitely! They are absolutely stunning (*coughCallahancough*)
Irish Wolfhounds - meh, I am personally not a fan of Irish Wolfhounds or Deerhounds. It's more the overall facial structure rather than the wire coat.
Neo Mastiff - those create more of a "Aww, look at that face" reaction for me than a "Wow! Stunning!"
My top breathtaking breeds

German shepherds
, of course. I love stock, plush, long coat, black sable, black and red/black and tan, bi-color, etc... love them all!
Bax, a dog at Spartanville Kennels
Doberman Pinschers
- what gorgeous dogs. I have seen some of the most regal looking Dobies on this forum.
Beaucerons
- I love their structure, and wish I could actually see one of those dogs!
Flat Coat Retriever.
I'm a sucker for black/partially black/mostly black dogs, and love the feathery fur.

Cane Corso/Presa Canario/APBT/American Bulldog/Dogue de Bordeaux
(I'm sure I spelled that wrong). I really love bully type dogs. The body structure is just wonderful.
Spicy, amazing pictures, you really ought to post more pictures more often! This picture below counts as one of those "overdone" ones, huh? I honestly don't know anything about bully breeds... I just found that picture browsing the net and it did take my breath away.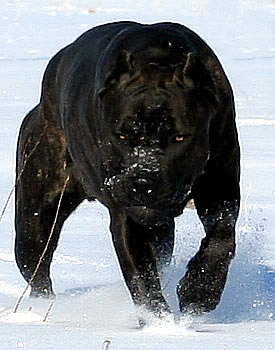 [/endgush]