Discussion Starter
·
#1
·
That dog that just commands attention wherever and whenever... very few breeds seemingly can do that, I've been around dogs for 40 years now but there are a select few that come to mind you don't see every day.
I've never owned any of the three listed but it seems that people can't flock to these dogs and their owners fast enough when they're out on the street or at the parks. Looks like an absolute joy to walk these attention magnets.
Great Dane -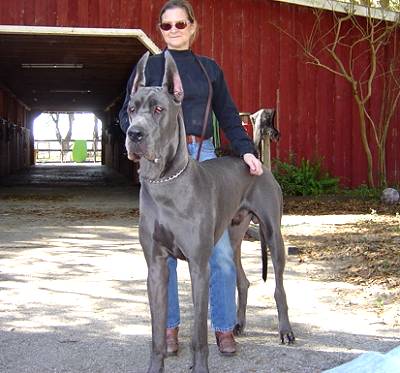 I thought my English Mastiffs were big dogs. The first time I saw a Great Dane back in the 80's my jaw surely dropped as it made my English Mastiff look like a Chihuahua and I probably looked like a fool. You can't help but stand and stare at these gentle giants. They have the most wonderful personality and temperament.. they wouldn't hurt a fly. I have vowed to get one some day for the last 20 years and I still intend to own one of these in the near future. It seems that whenever I see one out and about they are the biggest attention magnets possible.. cars stop in the middle of the road, people come running out of stores just to meet these dogs and their owners, it takes their owners forever just to make it down the block. It must be a nice feeling to own a dog everybody wants to meet and adore and one that you don't see on every street corner such as a lab or doberman ect. I make it a point to watch these guys after the Boxers, nothing like that effortless, majestic Great Dane gait.. beauty in motion and a very unique dog.
Irish Wolfhound -
I also vowed never to own a dog with longer hair.. but I would make an exception for the Irish Wolfhound without a doubt. Like the Great Dane, this dog just commands attention wherever it goes. Very regal and tall, like the Great Dane it makes other supposed 'giants' look small due to its sheer size. Very easy going and willing to do most anything to please its owner the Irish Wolfhound has really found a place in my heart. Very intelligent and always willing to please, I have yet to see an Irish Wolfhound back down from any task it is given and it always seems determined to go above and beyond what its owner asks. Again, a very unique looking dog.. the brindle Irish Wolfhound has to be my favorite color throughout the breed.. just a stunning, elegant animal. Unfortunately the breeding has become such in the last decade or so and now it's hard to find a decent reputable breeder for these giants. Unfortunate, but still on my wish list.
Neapolitan Mastiff -
Isn't that just the most huggable face you have ever seen? These guys are lookers and the biggest bears around! I had the immense pleasure of looking after two last week and fell in love with them. Lumbering rhinos I like to call them. If you've never seen a Neo's gait, you're missing out. Their cat like gait is both amusing and stunning when they're in motion.. I don't think you can find a more graceful mover out there although the Wolfhound and the Dane may give it a run for its money. Very strong minded and strong willed dog but also extremely intelligent.. I think most people assume underneath those dewlaps is a peanut sized brain. But again, a very unique looking breed and a dog you notice when it is walking down the street. Haven't met many of these guys but they seem to be sort of popular lately.. but darn do they ever drool. I have never met a dog that drools as much as these guys do... but that's just a minor little quirk.
So try as I might, I've gone back over the breeds I've owned, the breeds I've seen and the breeds I've heard and seen of. I can not come up with more than these 3 that seem to be the biggest attractions when seen walking down the street. Please, do share.