I have been taking care of a 2-4 year old bloodhound for the past 2 years and I need some help with him. He is a MAJOR puller. I have back problems after walking him, and I have became perfect at grass surfing,lol. He has 0 manner at all doesn't even know how to sit!! He is extremely stubborn and after reading up on bloodhounds it si in the breed description.? I want to walk him more but I cant because my mom is scared he will hurt me even more. What training can I do to help him have better manners? What kind of collar/harness would you recommend? I use an easy walk harness on my dog and it does not help with him. I have asked people with other dogs(non-bloodhounds) but nothing has helped. So I am hoping to get advice from blood-hound owners or any other hound owner. My grandpa used to raise blue ticks but he is "old fashioned" and I dont agree with his training methods. I am used to hounds but this is the first un-trained blood hound I have had to work with!!
here are pictures of him on one of our walks.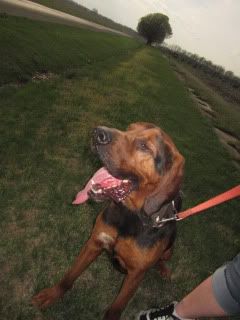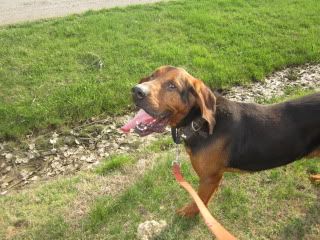 I have put a lot of weight on him since I started taking care of him but does it look like he needs a few more pounds? I only have labs and I keep them lean since I hike and do other activities but I am not sure with him.